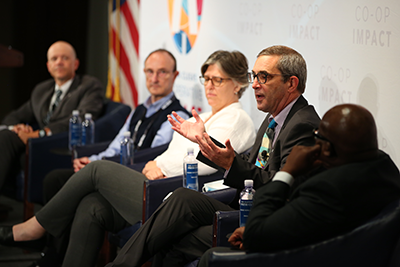 Our IMPACT 2021 session replays continue this week with "Acting on Our Co-op Identity: Eyes on the Horizon."
Join us on Thursday, November 18 from 1-2 pm EST for the third in a series of IMPACT 2021 session replays leading up to the International Cooperative Alliance's 33rd World Cooperative Congress in December. With cooperative identity high on the agenda of both events, our identity-themed session replays are a great opportunity to gear up for the congress and continue the conversations you began at IMPACT 2021.
During "Acting on Our Co-op Identity: Eyes on the Horizon," leaders from across the cooperative community focus on the future and how co-ops act on their cooperative identity. The last two years have been a crucible of learning and innovation—whether by choice or not. The long overdue focus on racial equity, the rush to virtual work and digital commerce, and a renewed interest in addressing climate change create a new context for the cooperative community and its lasting mission to empower people in their businesses and communities. This panel will bring together leading voices from key cooperative sectors to consider how cooperatives can act on their cooperative identity in the coming years to build a more inclusive economy.
Moderated by NCBA CLUSA president and CEO Doug O'Brien, this session features Christina Jennings, Executive Director of Shared Capital Cooperative; Jerry McGeorge, Executive Vice President of People at Organic Valley; Dr. Peter Muhoro, Chief Strategy, Technology & Innovation Officer at Rappahannock Electric Cooperative; and C. E. Pugh, CEO of National Co+op Grocers.