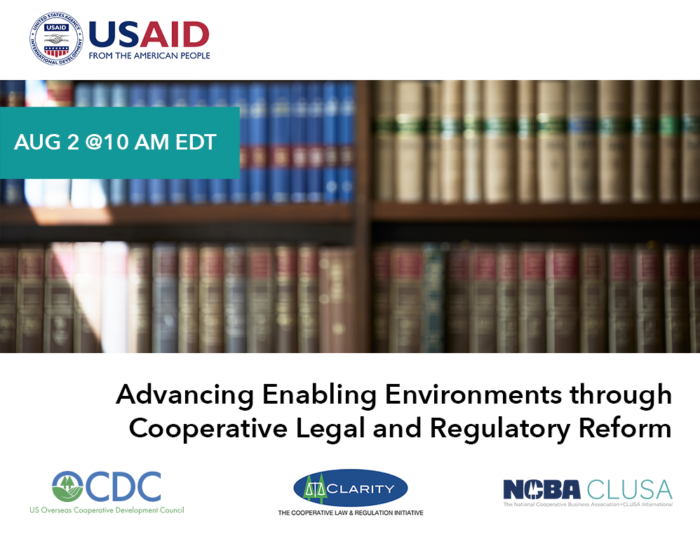 Join NCBA CLUSA on Wednesday, August 2 from 10 am–12 pm EDT for a special event celebrating global cooperative legal and regulatory reform successes and lessons learned.
This event is co-hosted with the U.S. Overseas Cooperative Development Council (OCDC) as part of their Tools for Better Cooperative Development Learning Series. Wednesday's webinar will unpack the Cooperative Legal and Regulatory Reform (CLARITY) initiative, a methodology designed to engage national cooperative movement leaders and institutions, cooperative law practitioners, government officials, and other key stakeholders in cooperative legal and regulatory reform.
Launched in 2004 by OCDC and its members, CLARITY has been implemented in  nearly 20 countries. Over the past five years, NCBA CLUSA has championed CLARITY to support cooperative law reform efforts in six of those countries through its Creating an Environment for Cooperative Expansion project, funded by the U.S. Agency for International Development (USAID)'s Cooperative Development Program (CDP), and through its U.S. Department of Agriculture (USDA)-funded Progana project.
This session will include cooperative law and policy specialists and cooperative development practitioners from Guatemala, Madagascar, Kenya, Ecuador and the Dominican Republic. The panel discussion portion of the event will be moderated by International Cooperative Alliance (ICA) Director of Legislation Santosh Kumar.
Simultaneous interpretation will be provided in Spanish and French.