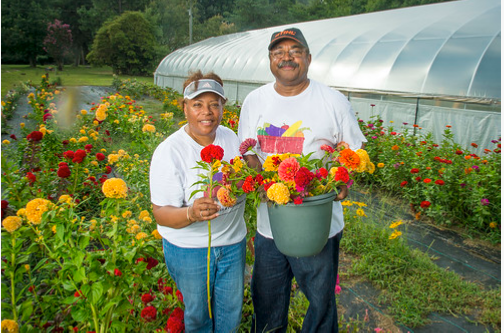 Tune in to WOL 1450 AM, 95.9 FM and WOL Live Stream February 24. 2022, 10:30 am EDT, for Everything Co-op, hosted by Vernon Oakes. Join Everything Co-op as we close out our recognition of Black History Month, with a webinar focused on this year's theme of Black Health and Wealth. This week Vernon interviews Thomas and Anita Roberson of Principals of Botanical Bites and Provisions, LLC. Vernon and the Robersons will discuss the role their plants, vegetables, and farm products play in the "Health and Wealth" of their patrons.
Thomas and Anita Roberson are passionate fourth generation farmers who operate Botanical Bites and Provisions, LLC, a veteran-owned and operated farm established in 2013. On their farm they grow a diverse assortment of fresh farm-grown produce. Their commitment to agriculture arises from their passion for healthy living by growing with no pesticides, preservatives or herbicides. which has earned them the distinction as being a Certified Naturally Grown (CNG) enterprise.
On their 10-acre farm all products are mostly hand-raised or handcrafted and naturally grown in three high tunnels, several rotating fields, or generated from their small apiary. In addition to fresh produce, Botanical Bites and Provisions offers spectacular cut flowers, honey, and value-added cosmetics from honey and propolis from their hives. Their on-farm market accepts SNAP and they are always welcoming new customers and friends.
The Robersons are members of the Virginia Beginning Farmers and Ranchers Coalition, Virginia Farm Bureau, the Minority and Veteran Farmers of the Piedmont. Anita serves on Virginia State University's (VSU) Small Farm Outreach Program Advisory Committee and the Board of Directors for the Virginia Foundation for Agriculture, Innovation and Rural Sustainability (VAFAIRS). They both serve as mentors for new and beginning farmers for the VSU Small Farm Outreach Program.