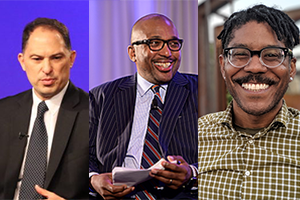 David Hincapie, Economic Development Specialist at U.S. Small Business Administration (SBA); John Holdsclaw IV, Senior VP of Corporate Affairs at National Cooperative Bank (NCB); and Esteban Kelly, Executive Director, U.S. Federation of Worker Cooperatives will appear on Everything Co-op on Thursday, May 7. A weekly exploration of the impact and potential of the cooperative business model, Everything Co-op aims to generate interest in and support for the cooperative movement.
Hosted by Vernon Oakes and conversational in format, the show is streamed live at worldcnews.com/listen-live every Thursday from 10:30-11:30 a.m. EDT. Everything Co-op also airs live in the Washington, D.C. Metropolitan Area on WOL 1450 AM—Radio One's premiere talk radio station.
Vernon and his guests will discuss loan programs available in response to COVID-19, and the role worker cooperatives can play as we work through and establish recovery plans.
During the first segment David Hincapie will discuss SBA's Economic Injury Disaster Loan, and Paycheck Protection Program. Then he will answer questions from the audience. In the second segment John Holdsclaw IV and Esteban Kelly, will share how their organizations are responding to the pandemic, followed by an open discussion and Q & A regarding available resources and strategies that cooperative organizations should be considering right now in preparation for a new economy.