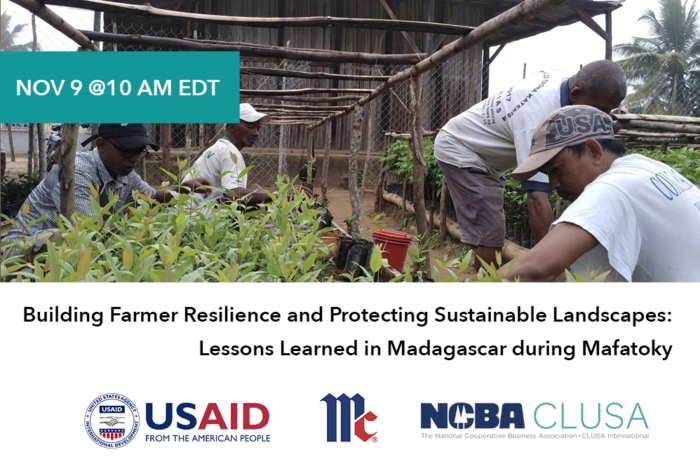 Join NCBA CLUSA, McCormick & Company and USAID Madagascar on Thursday, November 9 from 10-11 AM EST to celebrate the impact of the Sustainable Vanilla for People and Nature Activity in Madagascar.
While Madagascar is one of the most biodiverse countries in the world—80 percent of the island's flora and fauna are found nowhere else—climate change and deforestation are threatening its existence. Known locally as Mafatoky, which means "insurance for the future" in Malagasy, this activity promoted sustainable vanilla production while conserving biodiversity and natural resources, building community resilience and advancing an economically and environmentally just future for vanilla farming communities.
This public-private partnership between USAID Madagascar, McCormick and NCBA CLUSA created incentives for vanilla producers to contribute to sustainable land-use planning, reforestation and carbon sequestration. By boosting the production of high-quality, certified vanilla; improving the resilience of farmers and their families; and strengthening cooperative businesses, Mafatoky curbed threats to biodiversity, improved natural resource management, reduced GHG emissions, and improved the wellbeing of farmers and their families.
During this webinar, we'll unpack lessons learned during the three-and-a-half year activity and hear directly from the team, including USAID Madagascar's Serge Ramanantsoa, Project Director Zoely Ramanase and McCormick & Co.'s Gabriel Sarasin, moderated by NCBA CLUSA's Ryan Roberge.
This webinar will be presented in English with simultaneous interpretation in French.
MEET THE PANEL
Serge Ramanantsoa
Project Management Specialist/Climate Integration Lead
Zoely Ramanase
Project Director
Sustainable Vanilla for People and Nature/Mafatoky
Ryan Roberge
Senior Manager, Enterprise Development
Gabriel Sarasin
Director of Sustainability and Technology