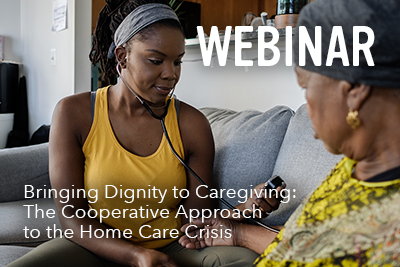 The home care crisis isn't new, but it is receiving renewed attention that provides an opportunity to address some of the longstanding challenges this critical sector faces. There is a shortage in direct care providers—in part because of the growing number of people needing care, but also because the jobs are incredibly challenging, undervalued and underpaid. In several communities across the country, home care workers have come together to form worker cooperatives. As a co-op, home care providers own and control their businesses and experience lower workforce turnover, leading to more highly-trained workers and higher quality care.
Join NCBA CLUSA and experts from across the home care cooperative sector on Thursday, May 20 from 2-3:15 pm EDT to discuss the health and workforce policy changes needed to address this crisis using a model that brings dignity to the hard work of caregiving.
Moderated by NCBA CLUSA Director of Government Relations Kate LaTour, "Bringing Dignity to Caregiving: The Cooperative Approach to the Home Care Crisis" will feature the following speakers:
Home care policy doesn't exist in a vacuum. It is as much healthcare as it is economic policy.