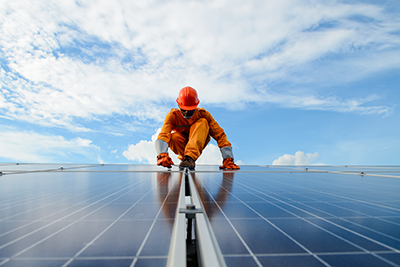 Join NCBA CLUSA on Thursday, April 8 from 2-3 pm EDT for a virtual briefing with the Environmental and Energy Study Institute, National Rural Electric Cooperative Association and the U.S. Department of Agriculture (USDA) on expanding clean energy and electrification opportunities in rural America.
As Congress considers legislation to invest in infrastructure and mitigate the impacts of climate change, electric cooperatives have a track record of leveraging the community power of co-ops to invest in change. The Rural Energy Savings Program (RESP) is one model that improves equitable access to energy efficiency strategies in rural homes. RESP provides zero interest loans to electric co-ops and other eligible entities to make energy efficiency upgrades to individuals households at no or very limited up-front cost to the resident.
Our panelists will also discuss other initiatives to promote solar deployment and ensure these resources reach low- and moderate-income households and communities. The briefing will highlight these initiatives as engines of economic growth through the creation of good-paying jobs and reduction of monthly utility bills.
Moderated by NCBA CLUSA President and CEO Doug O'Brien, "Expanding Clean Energy and Electrification Opportunities in Rural America" will feature the following speakers: