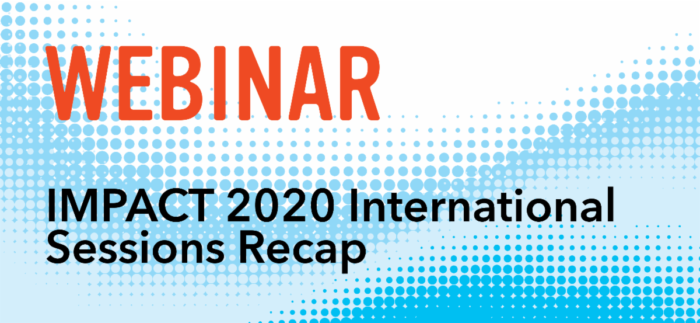 We hope you learned a lot at this years virtual edition of the NCBA CLUSA Cooperative IMPACT Conference!
During our international track, co-hosted in partnership with the Overseas Cooperative Development Council (OCDC), we packed a great deal of information into the program.  Knowing that the virtual world required us to manage the time well, we offered a number of panel discussions and workshops in competing time slots. You were forced to make some choices and probably would have liked to have participated in more sessions.
In the coming weeks you'll be able to find these recorded sessions on both the NCBA CLUSA and OCDC websites, but on October 28th from 10:00am- 11:30am EST we will convene many of the primary presenters for an online conversation that will focus on the highlights and cross-cutting themes featured in the international track of the conference.
Panel moderators will be there to review the high points of their panel discussions and help to identify how each panel addressed the resiliency of the cooperative model.  A panel of workshop facilitators will similarly provide highlights and share ideas that were generated by participants.  Time will be allotted for questions as well. The webinar will address a number of topics including:
Themes/high points reported by moderators from four primary panel discussions:
Mitigating Impacts: Keeping Members Safe
Food Security & Systems Issues
Business & Member Financial Recovery &* Resilience
Research, Data & Digital Solutions
Themes/highpoints summarizing discussions from interactive workshops:
Growth of Worker-owned Businesses in Post COVID Economy Worker cooperatives
Co-op Principle #6: Collaboration Among Cooperatives
E-commerce and Cooperatives: Potential for Economic Resilience (English)
Food security and Systems Issues
Moderators:
Alex Serrano, Senior Vice President International, NCBA CLUSA
Paul Hazen, Executive Director, Overseas Cooperative Development Council
Panelists:
Neha Patel, Western Corridor Advisor, National Co+op Grocers
Susy Cheston, Chief of Party, World Council of Credit Unions
Judith Hermanson, Director, International Cooperative Research Group, Overseas Cooperative Development Council
Roodline Volcy, Events and Communications Coordinator, The Democracy at Work Institute
Douglas Steinberg, Practice Area Director, Building Resilient Communities, NCBA CLUSA
Cathy Statz, Education Director, Wisconsin Farmers Union
Camila Piñeiro, Technical Specialist, Cooperative Development, NCBA CLUSA