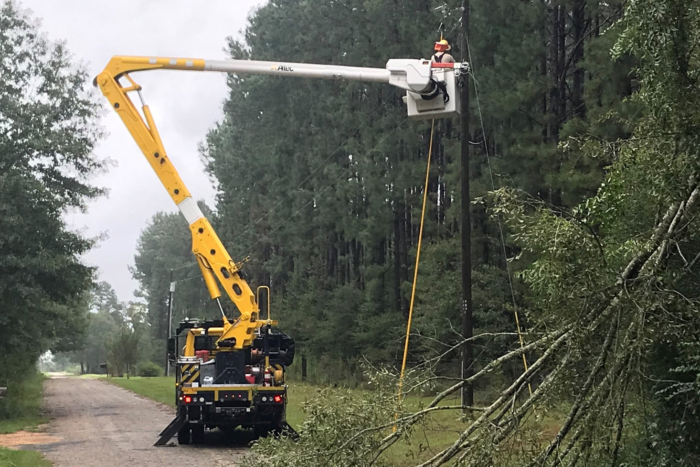 A massive mutual aid effort involving utility crews from more than 30 states is underway after Hurricane Ida made landfall west of New Orleans on Sunday as a powerful Category 4 storm. Crews are working to restore electricity to more than 1 million people in Louisiana and Mississippi, including around 200,000 co-op members.
"We have secured hundreds of contractors and electric co-op crews as well as tree-trimming crews and damage assessors," Joe Ticheli, general manager of Houma, Louisiana-based South Louisiana Electric Cooperative Association (SLECA), said in a statement Monday. "Parts of our Houma office roof have blown off and the building is full of standing water."
SLECA described the damage to its system as "catastrophic," and nearly all of its 21,000-plus meters were out of service Monday. It was one of several co-ops warning members that grueling restoration work—including replacing broken poles, stringing new conductor and repairing substations—is a certainty in some of the hardest-hit areas, and completing that work could take weeks.
Greenwell Springs-based Dixie Electric Membership Corp. told its members in a social media post that nearly 79,000 of the co-op's 111,000 members were without service Monday, and officials warned that extensive repairs were needed to its system.
"Crews must assess damage across the system, which includes 8,887 miles of line, hundreds of poles and cross arms and substations," said Randy Pierce, DEMCO's CEO and general manager.
Mandeville-based Washington-St. Tammany Electric Cooperative reported 50,000 of its 53,000 members without power Monday. The co-op is using its social media channels to remind members to avoid downed power lines, and crews began assessing system damage and planning restoration once winds subsided.
"Outages are extensive," co-op officials wrote in a social media post Monday afternoon. "While many members' power could be restored sooner, members in the hardest-hit areas will be without power for several days to weeks."
The storm, already described by meteorologists as the fifth-most-powerful hurricane to ever strike the continental U.S., developed rapidly from a tropical depression that formed in the western Caribbean on Aug. 27. The speed and intensity of the weather system as it pushed northward into the Gulf of Mexico kept many people from evacuating threatened areas.
Crews from electric co-ops in Texas, Oklahoma, Missouri and Arkansas headed to Louisiana on Monday to assist with power restoration. Electric and vegetation management contractors were also sending crews and equipment into storm damaged areas.
Co-ops seeking assistance are using a combination of reserved hotel rooms, designated crew facilities and line camps to host visiting crews, and COVID-19 mitigation protocols are in place to reduce pandemic concerns for those working in the region.
In Mississippi, co-ops in the southern part of the state reported progress on restoration, with outage numbers reduced from 85,000 to about 59,800, affecting eight of the state's distribution co-ops. Mutual aid for most of the Mississippi restoration is expected to come from co-ops and their contractors located east of the state.
"As the storm system continues making its way through the state, we anticipate additional outages at cooperatives serving in the northeast part of the state," said Ron Stewart, senior vice president of communications for the Electric Cooperatives of Mississippi.
Ida's landfall Sunday near Port Fourchon, Louisiana, came 16 years to the day after Hurricane Katrina triggered one of the largest most sustained mutual aid efforts ever mounted by electric co-ops. That storm, followed by Hurricane Rita three weeks later, kept co-op crews and contractors busy rebuilding power lines for several months.
Ida maintained hurricane-force winds for nearly 16 hours after its initial landfall but was downgraded to tropical storm status as it moved through central Mississippi. Forecasters have warned that high winds, torrential rains and the threat of tornadoes could persist as it continues moving through the Tennessee Valley and into the Mid-Atlantic region through midweek.