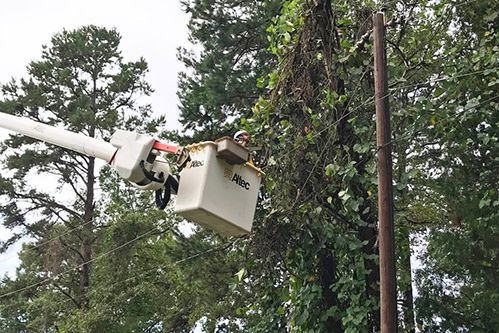 Electric cooperatives and credit unions in the U.S. are rallying to help those affected by Hurricane Michael, which left a trail of devastation across Florida, Alabama, the Carolinas and Georgia—and knocked out power to an estimated 900,000 homes and businesses, including more than 70 credit unions.
Electric co-ops from outside the storm-hit areas have sent crews to the aid of their fellow co-ops in states affected by the storm. Crews were mobilized outside of the storm path prior to it hitting on Wednesday, and have been working to restore power lines to homes and businesses.
Help has come from neighboring states of Kentucky, Mississippi and Tennessee, and further afield from Texas, Illinois, Louisiana, Virginia, Missouri and Arkansas.
The extensive roll call of cooperatives that have dispatched crews include Missouri co-ops Central Missouri Electric, Platte-Clay Electric Cooperative and Co-Mo Electric Cooperative; Kentucky co-ops Blue Grass Energy, Clark Energy Cooperative, Farmers RECC and Fleming Mason Energy; as well as Coast Electric from Mississippi and Middle Tennessee Electric.
Talquin Electric Cooperative in North Florida was aided by a crew from Tennessee, and posted their appreciation on social media. "Shout to Appalachian Electric Cooperative from New Market, TN and Nelson Tree Service, Inc. from Wilmer, TX for coming to aid with restoration efforts after Hurricane Michael," the post said.
Power has already been successfully restored in some areas. Within 24 hours, crews from Suwanee Valley Electric Cooperative in Live Oak, Florida, mutual-aid cooperatives and contractors safely restored 228 outages, bringing back power to all of its members who could safely receive service.
National Rural Electric Cooperative Association (NRECA), the apex body for rural electric co-ops, is working with federal agencies and utility industry interests to help coordinate the response. NRECA CEO Jim Matheson said, "Full recovery from Hurricane Michael will take time. Co-op crews from at least 14 states are converging on the impact zone and will work around the clock to restore power as soon as conditions allow."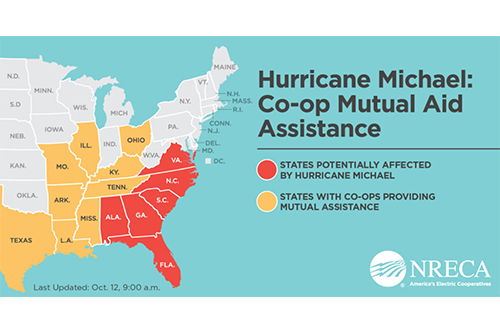 Meanwhile, credit unions across affected areas are working to restore disruptions in service due to the hurricane—and are also taking measures to help those affected. Emerald Coast Federal Credit Union in Florida's Port St. Joe has increased its ATM cash limits for members to $1,000 a day. And the Tyndall Federal Credit Union in Panama City, Florida, is working to switch to its backup system after experiencing connectivity issues and temporarily closing its call center.
Credit union insurance and investment partner, CUNA Mutual Group, identified more than 70 credit unions and nearly 300 of their branches in Florida and Alabama that were in the path of the hurricane, and has activated its Customer Disaster Response Team.
"Our 24/7 claims emergency line is on high alert," said Phillip Tschudy, CUNA Mutual's media and reputation strategist. "National mitigation firms are ready to respond should our customers need immediate mitigation assistance. We have engineering firms ready, should they be needed throughout the potentially impacted areas."
Cara Clark, communications manager for the League of Southeastern Credit Unions, said that some of the league's member credit unions and staff have suffered extensive damages. The league has set up a PayPal site to take donations to help those in need.
The National Credit Union Foundation (NCUF) has launched CUAid to receive disaster relief donations to help credit union employees and volunteers affected by the hurricane. Supporters can make donations at cuaid.coop.
Gigi Hyland, executive director of NCUF, said, "With Hurricane Michael arriving as Florida's strongest storm in over 25 years, we are opening CUAid to begin raising funds to assist credit union people in their recovery. We hope the credit union movement will once again show their support and co-operative spirit in assisting those who have been affected by this natural disaster."