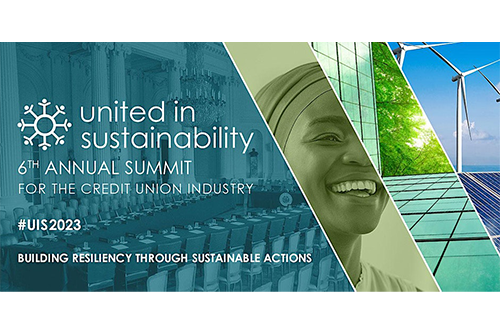 On November 30, credit unions, their associations and industry thought leaders will convene for the 6th Annual United in Sustainability Summit for the credit union industry. The hybrid event will take place in Washington, DC at the Organization of American States (OAS) Building. It is co-hosted by the United Nations Federal Credit Union (UNFCU) and OAS FCU.
Speakers include Samira Salem, Vice President of Diversity, Equity and Inclusion at Credit Union National Association and a member of NCBA CLUSA's Cooperative Economics Council.
According to Summit organizers, credit unions—because of their community focus—are in a unique position to make a difference and build more climate resilient, economically-empowered and inclusive communities. The agenda includes sessions on making sustainability a strategic priority, advancing cooperative innovation and purpose for greater socio-economic impact, credit union foundations, the clean energy transition and the business case for sustainability.
More than 100 credit unions actively participate in the United in Sustainability (UIS) Network, which was founded by UNFCU to provide credit unions with tools and resources to start or advance their sustainability journeys. These aims align with the United Nation's Sustainable Development Goals (SDGs), which seek to build a better world.