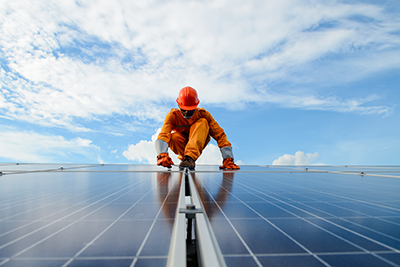 On May 16, 2023, USDA Rural Development and the Biden Administration announced the availability of funding through the Inflation Reduction Act for cooperatives under two new programs aimed at combating the climate crisis. Approximately $11 billion has been made available to cooperatives through the Empowering Rural America ("New ERA") program and the Powering Affordable Clean Energy (PACE) program. 
The Powering Affordable Clean Energy (PACE) program makes $1 billion available in partially forgivable loans to renewable-energy developers and electric service providers, including cooperatives, municipals and investor-owned and Tribal utilities. Loans are made to help finance large-scale solar, wind, geothermal, biomass, hydropower projects and energy storage in support of renewable energy systems. 
The PACE application window opens July 10, 2023 and closes  September 29, 2023, with applications processed on a rolling basis. 
Cooperatives are eligible for loans ranging from $1 million to $100 million under two different applicant categories: 
Category 1: Provides up to 20 percent total loan forgiveness for applicants who meet program requirements.

 

Category 2: Provides up to 40 percent total loan forgiveness if the project is in or serves 50 percent or more of the population of a designated energy community, disadvantaged community or distressed community.

 
The Empowering Rural America (New ERA) program aims to help rural Americans transition to clean energy. The New ERA program makes $9.7 billion available to rural electric cooperatives, including existing or former USDA Rural Utilities Service (RUS) borrowers, borrowers of the former Rural Electrification Administration, rural electric cooperatives that serve predominantly rural areas, and subsidiaries of rural electric cooperatives.  
The New ERA program application window opens July 31, 2023 and closes August 31, 2023.
Rural electric cooperatives of varying sizes are eligible for the New ERA program, as applicants are separated into three categories: 
Category 1: Total utility plant value equal to or more than $500 million

 

Category 2: Total utility plant value between $200 million and $500 million

 

Category 3: Total utility plant value equal to or less than $200 million

 
Cooperatives can utilize funds to make energy efficiency improvements to eligible generation and transmission systems, purchase, build or deploy renewable energy, zero-emission systems, carbon capture storage systems, or purchase renewable energy. Cooperatives can apply for funding through a loan, grant or loan and grant combination. 
Interested cooperatives can email questions about the PACE or New ERA programs to RD.RUS.IRA.Questions@usda.gov.