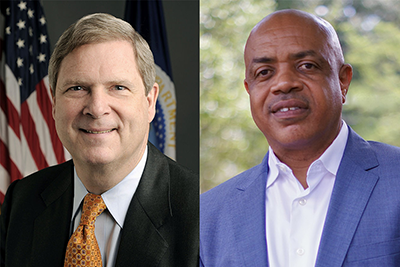 The National Cooperative Business Association CLUSA International (NCBA CLUSA) is thrilled to announce that U.S. Department of Agriculture (USDA) Secretary Tom Vilsack will take part in a keynote conversation with Cornelius Blanding, Executive Director of the Federation of Southern Cooperatives/Land Assistance Fund at the 2021 Cooperative IMPACT Conference.
Broadcast live from the National Press Club on Friday, October 8 at 8:30 am EDT, their conversation will focus on the critical role cooperatives play as people seek to build back an economy that is more equitable and resilient—both in the U.S. and around the world.
It's not too late to be part of this conversation! Register now for access to Friday's livestream, as well as the 50+ hours of programming that make up IMPACT 2021. Or, add "Friday In-Person" to your registration to join us at the National Press Club.
Tom Vilsack was confirmed as the 32nd U.S. Secretary of Agriculture in February 2021 by the U.S. Senate. He was nominated by President Joe Biden to return to a role in which he served for eight years under President Barack Obama. As the 30th Secretary of Agriculture between 2009 and 2017, Vilsack worked to strengthen the American agricultural economy, build vibrant rural communities and create new markets for innovation in rural America. He helped put Americans back to work by investing in rural infrastructure, renewable energy and large-scale conservation partnerships.
As Secretary of Agriculture once again, Vilsack continues to build on his record of leadership in the areas of rural development, conservation, food access, renewable energy, and empowering minority communities.
Prior to serving as Secretary of Agriculture between 2009 and 2017, Vilsack served two terms as the Governor of Iowa, served in the Iowa State Senate and as the mayor of Mt. Pleasant, Iowa.
Cornelius Blanding is Executive Director of the Federation of Southern Cooperatives/Land Assistance Fund and a member of NCBA CLUSA's Board of Directors.
USDA plays a critical role in partnering with the co-op community to ensure more Americans can access affordable electricity, broadband and other basic services. USDA has a legacy of working with agricultural cooperatives to make sure farmers have an opportunity to own, control and benefit from the businesses they use to plant their crops and market their products. USDA also administers programs to help people in developing regions build agricultural systems and infrastructure, including by using cooperatives.
Register now to be part of the only national, cross-sector event elevating the national conversation around a trusted, proven way to do business and build communities. Check out the rest of this year's programming below!
THANK YOU TO OUR IMPACT CONFERENCE STRATEGIC SPONSORS