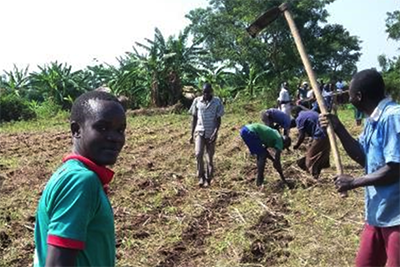 The Youth Empowerment Through Agriculture (YETA) program, implemented by NCBA CLUSA in partnership with the Mastercard Foundation, uses a collective action model to organize and train young people in Northern Uganda. The 813 youth-led associations established by this project have reached 27,130 youth—an impressive number that is dwarfed by the results that have spilled over into multiple aspects of young people's lives (income, leadership, sexual and reproductive health) as well as their communities.
Collective action, or cooperation, refers to any action where people work together for a common objective. We know that collective action can be a powerful tool in building resilience, enhancing livelihoods and giving greater voice to members. Through YETA, youth ages 15-24 were brought together to form associations and cooperatives. These groups consisted of about 35 young men and women who worked together in specific value chains: poultry, piggery and crops.
We dug deeper to understand what could be behind the numbers and what role cooperation played in achieving these results. The youth association members received training in life skills, entrepreneurship and agribusiness, group governance and leadership and financial literacy. These training sessions were intensive and certainly contributed to the positive outcomes achieved by the project. Initially, a group-based model was adopted as a cost-effective way of delivering training and mentorship at scale. However, applying a collective action model reinforced the training and led to additional benefits in unexpected ways.
Why promote collective action?
Collective action builds social, human and economic capital, which contributes to resilience. Often youth are excluded from the networks and relationships that improve livelihoods outcomes, and youth associations bridged this gap. Youth not only developed strong bonds within the association, but were also able to leverage their collective strength to access opportunities closed to them as individuals.
Economic capital
Access to land Young people were able to access additional land, either through negotiations with elders in their community or by saving as a group and leasing land. In the former case, this was usually the result of the group's standing in their community or their mentor's influence. This is supported by results from YETA's first cohort of youth organized by the program: youth increased their access to land from 36 percent to 46 percent (ownership) and from 27 percent to 35 percent (rented) after participation in the association. [1]
Access to finance Youth associations launched their own Village Savings and Loan Associations (VSLAs), which allowed members to develop a savings culture and obtain microloans for their individual enterprises. In the final years of the project, some well-developed groups joined together to form two Savings and Credit Cooperative Organizations (SACCOs). Ayer United Youth SACCO has 680 members and offers financial services specifically for youth. Youth were also able to access government grants and loans for investments in their businesses. Collectively, youth associations accessed USD $134,775 from these government programs.
Human capital
Skill building The group model accelerated the learning process of trial and error for young entrepreneurs. A group can mobilize the capital needed for a small joint enterprise much more quickly than an individual could. This allows the individuals in the group to collectively experiment with different value chains and business models, spreading the risk while still providing the valuable opportunities for practical, hands-on learning.
Higher aspirations and goal setting The successes experienced as a group and even the individual successes achieved by fellow association members served as examples for all association members. It enabled the youth to set realistic yet ambitious goals for themselves, thereby developing positive self-concept.
And these personal developments have economic impacts—the data show that income increased by 102 percent on average for women and by 60 percent for men from YETA's first cohort of participants.[2] Further, entrepreneurial activity of association members extended beyond the initial group enterprise with members applying their newfound skills and aspirations in a myriad of new business ventures.
Social capital
Leadership Youth association members became more involved in the community. This is in large part to the negotiation and leadership skills that youth honed through training and participation in the group dynamic. The perceptions of youth by the community also shifted with citizens and elders recognizing youth as contributing members of society. This result is supported by the fact that 294 youth—80 of whom are young women—have been elected to local government positions.
Peer support Youth associations are social and establish bonding between members. During focus group discussions youth cited working together, sharing experience, knowledge and ideas, and making friends as reasons for participating in the association. This enabled them to overcome the physical and economic barriers to improved livelihoods.
Lessons learned
Using lessons from YETA, how can we promote collective action among youth?
Because youth are likely inexperienced in group dynamics and leadership, training is needed to build skills such as negotiation and conflict resolution.
Keep the group size to no more than 30 young people of similar backgrounds due to the inexperienced nature of the youth leaders.
Good mentors assigned to each group are crucial and attention needs to be given to identifying women mentors. Ideally, each group should have both a male and female mentor.
Encourage groups to select businesses with a short investment cycle, allowing for quick experimentation and learning.
Establish peer learning between groups to allow for the exchange of knowledge within and between value chains and to spur inspiration and motivation.
Check out the following reports to learn more about youth and resilience: "Youth Associations and Cooperatives: Getting Young People into Work" and "What are the Benefits and Comparative Advantages of the Group Model in Improving Youth Economic Opportunities?"
[1]ODI – Overseas Development Institute (2018, unpublished) 'YETA cohort – follow-up report: descriptive analysis', internal report
[2]IBID