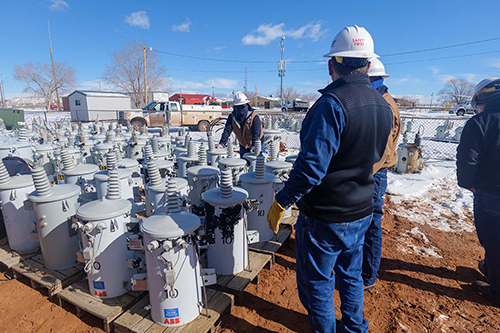 Some Navajo Nation families who have waited decades for electricity may soon have power in their homes for the first time, thanks to donated surplus transformers from an electric cooperative hundreds of miles away.
Moon Lake Electric Association trucked 20 10-kilovolt single-phase transformers more than 300 miles from its Roosevelt, Utah, supply yard to the Navajo Tribal Utility Authority's Montezuma Creek, Utah, suboffice in January to help the agency overcome shortages that threatened to stall its Light Up Navajo initiative. The ongoing effort is aimed at bringing central station power to about 14,000 people who live in backcountry areas of the sprawling 27,000-square-mile Navajo Nation, which covers parts of three states.
"Twenty transformers might not be able to solve that, but it can make a difference, and that's a difference we are proud of," said MLEA CEO Yankton Johnson.
Johnson and members of his staff presented the idea to the co-op's board early this year as an opportunity to practice the principle of concern for community.
MLEA and many other electric utilities have been grappling with a shortage of transformers for more than two years. The lack of availability threatened to stall NTUA's efforts to relaunch its line extension program. That's when the co-op stepped in to help.
With the board's support, the co-op took inventory of its stock, which included about 60 new and reconditioned 10-kV transformers, too small to meet most needs on its current system. The donated units were released and, within weeks, arrangements were made for delivery.
The NTUA, a not-for-profit enterprise of the Navajo Nation, provides electric, water, wastewater, natural gas, solar energy and communications services to about 156,000 people who live on Navajo land.
"We see Light Up Navajo as mutual aid without a storm," said Deenise Becenti, NTUA's director of government and public affairs. "We have families who've lived in portions of Navajo Nation for generations who are still waiting for basic services. Before we can extend services to them, we have to follow government and environmental regulations and ensure that they meet Navajo Nation lease requirements for their homesites."
Since 2019, about 1,000 families have been connected to power lines or solar arrays through the program. Connecting the average home can cost up to $40,000 for lines, household wiring and labor. NTUA often extends its existing power lines from 100 yards to as much as five miles to reach unconnected homesites.
"One crew set 50 poles for three families so we could connect power," Becenti said. Sixty-nine line technicians representing 14 public utilities participated in Navajo Nation line extension projects in 2022.
For the thousands of homes not connected to power, water is drawn from wells by pumps or small gas engines. Fresh food is stored in coolers or at the home of nearby neighbors or family members who have electricity. Children study by kerosene lantern or get driven to connected locations where they can access the internet.
When Light Up Navajo was revived following the COVID-19 shutdown, MLEA employees wanted to help. Operations manager Robert Uresk and line superintendent Curtis Miles were familiar with NTUA's transformer needs and sought Johnson's support for the donation.
"Being able to support communities in need, whether our own or others, has been something I've always admired about MLEA and our leadership team," said Johnson. Uresk went along for the transformer delivery trip just weeks before his retirement from the co-op after 42 years.
"Some families in the Navajo Nation drive as much as three hours round-trip once or twice a week to reach watering points where they can fill 250-gallon plastic tanks with water for cooking, cleaning and drinking," said Johnson. "The typical 10-kV transformer could service up to two or three homes, but the homes are so spread out that they will most likely be one home per transformer."
But a single transformer in the right location can make a world of difference.
"When the families have gotten connected, they have personally thanked the visiting crew members and have said their 'burdens have been lifted,'" Becenti said. "Donations of equipment reduce the cost and certainly answer the prayers of families who have been hoping for electricity for many years."