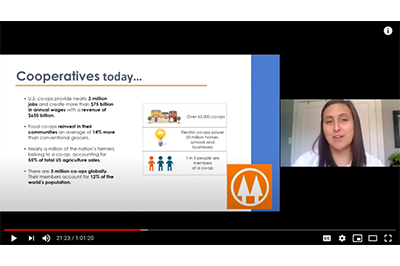 Last week, the Environmental and Energy Study Institute (EESI) held a series of briefings discussing rural communities, climate and COVID-19 recovery. The first of the three briefings, "Implementing Energy Efficiency Programs in Rural America," addressed the issue of high energy costs in rural communities and the role that energy co-ops play in reducing this financial burden.
The briefing highlighted the importance of on-bill financing (OBF) programs and the value of strong co-ops within rural communities. OBF programs allow participants to receive energy efficiency improvements with little to no upfront costs, which broadens access to household energy upgrades and, ultimately, saves money for the participant.
Rob Ardis, President and CEO of Santee Electric Cooperative; Jay Kirby, Vice President of Public Affairs for Santee Electric Cooperative; and Kate LaTour, Director of Government Relations for NCBA CLUSA spoke at the briefing and provided an in-depth look at the ways OBF programs and co-ops benefit rural communities.
Ardis and Kirby began the briefing by explaining how Santee Electric worked with other South Carolina electric cooperatives to establish the "Help My House" OBF program. Santee Electric wanted to make home energy upgrades more accessible to its 36,000 members, particularly those who couldn't afford major improvements to their homes. Program participants take out an average loan of $9,900 for cost-effective improvements including new HVAC systems, ductwork repairs and improved weatherization. The member then repays Santee Electric over the span of 10-20 years as a line item on their monthly utility bills.
In order to make "Help My House" accessible to all members, credit checks and down payments are not required. Loans are tied to a home's meter, rather than the member, allowing the payment obligation to transfer between home occupants. With this design, Santee Electric has had a zero percent default rate across 289 homes since launching the program in 2011.
Kirby explained that Santee suspended the program in March due to COVID-19 concerns, but that it had been brought back online the day before the briefing. The waiting list during the three-month pause grew to 47 homes, and contractors were eager for the program to return. In order to minimize in-person contact between members, contractors and co-op staff, the program will temporarily scale back its energy audit procedures and focus on work that can be done outside the home, such as upgrading HVAC units.
LaTour, the third and final speaker, outlined the importance of co-ops in meeting the needs of rural communities and strengthening local economies. She explained how the U.S. Department of Agriculture (USDA)'s Rural Energy Savings Program (RESP) provides rural electric co-ops with a valuable source of capital for energy efficiency loan programs. Kirby agreed, stating that Santee Electric had recently secured $2.5 million in RESP funding in order to continue and expand its "Help My House" program.
Cooperatives of all types help build resilient and inclusive communities, LaTour added. The pandemic has solidified the need for co-ops in communities as a means to reduce vulnerabilities to economic downturns and external shocks by promoting inclusivity and community participation. LaTour also emphasized the need for the federal government to ensure that co-ops are eligible for programs in any coming stimulus packages in order to encourage cost-effective energy efficiency and renewable energy projects that will deliver both immediate and long-term self-sustaining benefits.