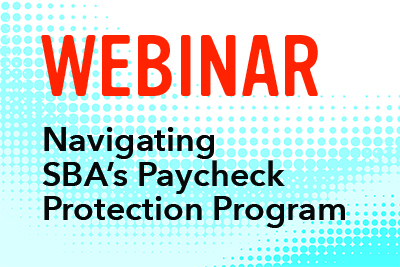 Join NCBA CLUSA, National Cooperative Bank and law firm Dorsey on Friday, April 10 from 11 a.m-noon for a webinar on navigating the U.S. Small Business Administration (SBA)'s new Paycheck Protection Program.
Last Friday, SBA published an interim rule indicating that most cooperatives are now eligible for the Paycheck Protection Program, which provides low-interest loans of up to $10 million. Issued by private lenders and guaranteed by SBA, these loans can be forgiven if borrowers meet certain requirements.
We'll unpack the details of this program and provide an update on advocacy efforts related to COVID-19. National Cooperative Bank will discuss what co-ops need to know as they work with their lenders, and Dorsey will provide insights on other employee considerations.
During this webinar, NCBA CLUSA's president and CEO Doug O'Brien and Director of Government Relations Kate LaTour will be joined by Patrick Connealy, Executive Vice President of  National Cooperative Bank and Ken Logsdon, a Partner at Dorsey.
Opportunities for questions will be provided at the end through a moderated Q&A session.