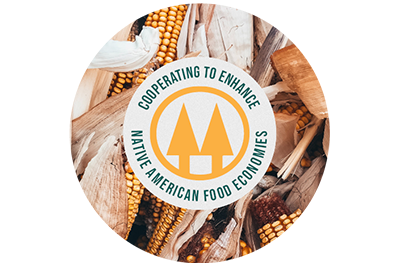 Join the Native American Agriculture Fund (NAAF), Cooperative Development Foundation (CDF) and the National Cooperative Business Association CLUSA International (NCBA CLUSA) for a webinar series on enhancing Native American food systems through cooperatives.
Scheduled for August 2-4, 2021 from 12-2:30 pm EDT each day, "Cooperating to Enhance Native American Food Economies" will begin with an overview of Reimagining Native Food Economies: A Vision for Native Food and Agriculture Infrastructure Rebuilding and Recovery. Published by NAAF, this report provides an infrastructure framework to harness Indian Country's economic and nutritional potential to recover from COVID-19 and propel sustainable rural economic development.
This webinar series will also address food hubs and cooperatives, opportunities and challenges for cooperatives in Indian Country, and imagining a cooperative Native food system. Speakers include Janie Simms Hipp, CEO of NAAF and citizen of the Chickasaw Nation, and Doug O'Brien, president and CEO of NCBA CLUSA.
---
The Native American Agriculture Fund (NAAF) provides grants to eligible organizations for business assistance, agricultural education, technical support and advocacy services to support Native farmers and ranchers. NAAF is the largest philanthropic organization devoted solely to serving the Native American farming and ranching community.