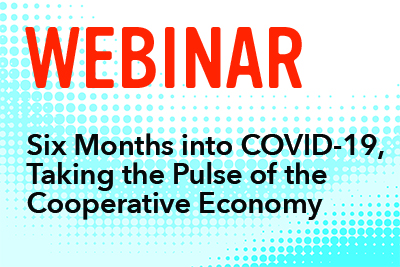 As cooperators across the U.S. and around the world enter the sixth month of a global pandemic, it's time to reevaluate the new normal. How are cooperatives adapting in the face of shifting priorities, and how will co-op businesses—and entire sectors—look different in the future?
Join NCBA CLUSA on Thursday, August 20 at 3 p.m. for a webinar hosted by the Council of Cooperative Economists (CCE) with support from CCE sponsors CoBank and Nationwide.
Moderated by NCBA CLUSA President and CEO Doug O'Brien, this conversation will feature Dan Kowalski, Economist and Vice President of CoBank's Knowledge Exchange; Russell Tucker, Chief Economist for the National Rural Electric Cooperative Association (NRECA); and Esteban Kelly, Executive Director of the U.S. Federation of Worker Cooperatives.
During this webinar, panelists will discuss the following questions:
How have the economic dynamics of COVID-19 impacted your cooperative sector?
How has your sector adapted?
Will these adaptations be permanent? How will your sector look different in the long-term?