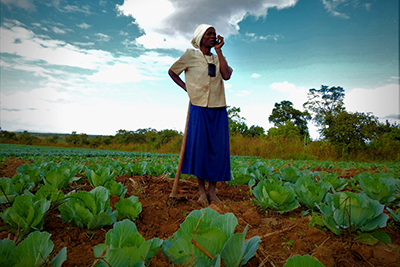 A new U.S. Agency for International Development (USAID)-funded project to support socio-economic development and recovery in Cabo Delgado—Mozambique's northernmost province—will leverage NCBA CLUSA's legacy and expertise in the country.
For more than 25 years, NCBA CLUSA has continuously led climate-smart agriculture, food security, adult literacy, youth and gender, producer organization and market development activities in Mozambique.
The new three-year, USD $3 million activity, "Supporting Greater Socio-Economic Development and Recovery in Cabo Delgado," is part of USAID's New Partnership Initiative (NPI), designed to tap into the ingenuity and knowledge of underutilized organizations in the agency's work to ensure that people become agents of their own growth and prosperity for generations to come.
Known locally as Okhavihera—which means "solidarity, restore, support" in Meto, the Macua language spoken in southern Cabo Delgado—the project represents a dynamic partnership that will galvanize public and private investments to support 12,000 people—mostly youth, women and internally displaced persons (IDPs)—by restoring their livelihoods and enhancing resilience to future shocks.
In addition to poverty and climate shocks, Cabo Delgado is facing worsening insecurity and violence. According to the United Nations, the number of people forced from their homes by conflict in northern Mozambique has quadrupled this year—to 420,000. Since last year, close to 800,000 people have been displaced, about a third of the province's population.
Over three years and across the districts of Montepuez, Ancuabe and Balama, Okhavihera will:
Strengthen economic pathways, particularly for youth
Support recovery from natural disasters by increasing the use of climate-smart agriculture
Improve information dissemination using local radio and SMS platforms
Led by NCBA CLUSA, the project consortium is comprised of three highly-qualified, underutilized local partners: Consultoria em Desenvolvimento Social (SCDS), a multidisciplinary consulting firm with expertise in socioeconomic analysis, gender equity and IDP resettlement and livelihoods restoration; Unidade de Assistência Técnica de Alfabetização Funcional – Associação para o Fortalecimento Comunitário (UATAF), a Mozambican NGO with a strong track record in adult education, financial literacy, Village Savings and Loan Associations (VSLAs) and community resilience; and private sector partner Plexus Mozambique LDA (PML), a leading agribusiness in Cabo Delgado with a network of more than 75,000 farmers.
For more than 65 years, NCBA CLUSA has worked in 100+ countries in Africa, Latin America and Southeast Asia, building resilient communities, creating economic opportunities and strengthening cooperatives and producer organizations. Our work empowers smallholder farmers, women and youth in the areas of food security and nutrition-led agriculture, climate-smart agriculture, market development, natural resources management, positive youth development, gender equality and enabling regulatory environments.