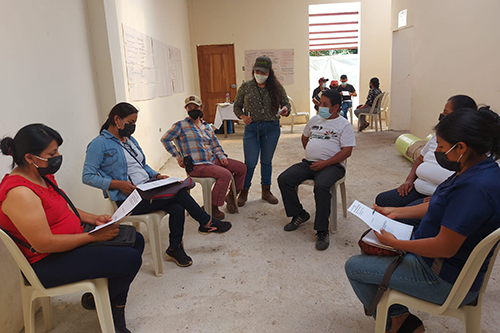 Women leaders from two coffee and cacao producing organizations in Ecuador are learning new skills, expanding their perspectives and growing as industry experts thanks to support from NCBA CLUSA's U.S. Agency for International Development (USAID)-funded Farmer-to-Farmer program.
Asociación de Producción de Cacao y Derivados del Sur (ASOPROMAS) and Federación de Pequeños Exportadores Agropecuarios Orgánicos del Sur de la Amazonia Ecuatoriana (APEOSAE) are both located in the Zamora Chinchipe province of Ecuador. Zamora Chinchipe is under permanent protection due to having previously been devastated by deforestation meaning that, as a requirement, agricultural production in this region must be responsible and sustainable—a primary objective that aligns with ASOPROMAS, APEOSAE, and coffee and cacao producers.
In addition to being leaders in agribusiness, organic production and export of chocolate and coffee, ASOPROMAS and APEOSAE are industry leaders in gender equality and social inclusion.
NCBA CLUSA's USAID-funded Farmer-to-Farmer program recently had the privilege of sending volunteers on marketing, processing, organic certification and grant management assignments with both organizations. For these two organizations, having Farmer-to-Farmer volunteers David Pino, Moriah Bilenky, Bradley Silfies and Leonard Polara meant learning how to increase production, receive organic certifications, and learn about social media management. Association leaders Nancy Paz from ASOPROMAS and Nora Ramon from APEOSAE have participated and been key contributors to the implementation of these assignments, leading both organizations to become organically certified trailblazers in deforestation-free coffee and cacao.
Both single mothers, Nancy and Nora have spent their lives building their skills to provide for themselves, their families and their community. Nancy is a daughter of two leaders in the industry. Her mother was the president of a women's association in the 90s and her father was one of the founders of APEOSAE, which is currently housing the association's plant nurseries on their family land. Growing up, she learned from her family the value of working hard to benefit the rural community and is now the first woman administrator of ASOPROMAS. Through ASOPROMAS and Farmer-to-Farmer trainings, she has gained knowledge on organic cacao production and selling products for fair prices.
Like Nancy, Nora Ramon also serves as an administrator for APEOSAE. She has been a member of APEOSAE for five years and joined the association interested in learning more about the whole production chain from farming to export. Through APEOSAE, she gets firsthand access to learning about market access and organic production. Members of APEOSAE don't have to pay for materials, certifications or technicians. They get access to different markets and prices, while also benefiting from public companies and NGOs.
For Nora, being part of APEOSAE has meant professional and personal empowerment. "I love my job. I get more opportunities to be a technician and leader. To access information and represent my country and my organization. I had the opportunity to visit Germany for business, and learn more about the market we work on," she said.
In 2021, ASOPROMAS received two grants that allowed them to purchase new machines, train on new product creation, industry processing, and obtain their Registro Sanitario, which authorizes them to commercialize their products. During that time, they continued to apply for new grants and requested that volunteer Moriah Bilenky help them manage their funding and access opportunities to begin exporting cacao. Following her assignment, Moriah Bilenky recommended ASOPROMAS increase its presence on social media. Fortunately, after assignment recommendations were applied, by the end of October 2022 ASOPROMAS will export its first container of dried cacao bean. The association's increased activity on Facebook allowed them to connect with a chocolatier in Chile looking for Ecuadorian cacao. For ASOPROMAS, this is an incredible milestone because for producers like Nancy, ASOPROMAS serves as her market and allows organization members to sell cacao for a higher value than in local markets.
For Nora, Nancy and many other members, becoming leaders in the agricultural industry means they gain access to new tools, practices and training on how to use social media for business. Through partnerships with programs like Farmer-to-Farmer, both volunteers and association members access opportunities to learn new skills, expand their perspectives, and grows as leaders in their industries.