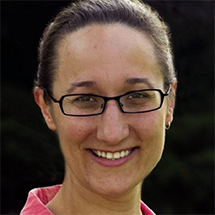 Education Director
Wisconsin Farmers Union
Cathy Statz is Education Director of the Wisconsin Farmers Union (WFU), which is headquartered in Chippewa Falls, Wisconsin. She coordinates a variety of cooperative education programs for Farmers Union members, their children and the general public, including the WFU summer camp program at WFU Kamp Kenwood, and she serves as the co-coordinator of the National Farmers Union (NFU) College Conference on Cooperatives.
Statz grew up on a dairy farm near Sauk Prairie, Wisconsin, where she was active in the WFU youth and summer camp program, including receiving the Farmers Union Torchbearer Award and serving on the NFU National Youth Advisory Council.
As a college student, she worked summers for the Farmers Union as a summer camp intern and camp director, teaching young people about cooperative business and philosophy. In 1994, she spent a college term studying in London and made a "pilgrimage" to Rochdale, where she visited the co-op store on Toad Lane in its 150th year.
Statz holds a bachelor's degree in English (with Secondary Level Education Certification) and a bachelor's degree in Music in Voice Performance from Lawrence University in Appleton, Wisconsin. She is also the 2006 recipient of Lawrence University's Nathan M. Pusey Young Alumni Achievement Award.
Statz has been a participant, co-facilitator and mentor of NCBA CLUSA's Cooperative Leaders and Scholars Institute, and assisted with cooperative youth conferences in the US, Canada and UK. She has been a member of the Association of Cooperative Educators (ACE) since she began working for Wisconsin Farmers Union in 1997, is a member of the board, and has received the ACE William Hlushko Award to Young Cooperative Educators (1999) and the ACE Outstanding Contribution to Cooperative Education and Training (2019).