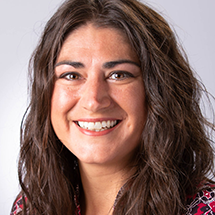 Cooperative Development Specialist
University of Wisconsin Center for Cooperatives
As a Cooperative Development Specialist at the University of Wisconsin Center for Cooperatives, Charity Schmidt provides technical assistance to startup co-ops and facilitates outreach efforts to cooperators and community-based organizations. She coordinates the work of the Madison Cooperative Development Coalition (MCDC), the City of Madison's funded initiative to form worker cooperatives that address income inequality and racial disparities by creating living-wage and sustainable jobs. She takes pride in creating spaces for co-op education and coordination, building relationships between entrepreneurs and community organizations, and contributing to community-driven economic development in Madison.
Charity earned masters degrees in Latin American, Caribbean and Iberian Studies, and Sociology from University of Wisconsin-Madison. She taught classes on social theory, sociology of race and ethnicity, and American contemporary society at Madison College and UW-Madison. She has published work on topics ranging from diversity in and access to service learning, sociology in action beyond the university and the crisis facing bee colonies. She serves on the Board of MadWorC, the peer-to-peer network of Madison worker cooperatives, as well as the Board of Worker Justice WI, which builds collective worker power through training, labor rights education, collective action and community engagement, with an emphasis on interfaith involvement. When she's not working, Charity likes to kayak, play pool, listen to fictional podcasts, or just relax in her garden.