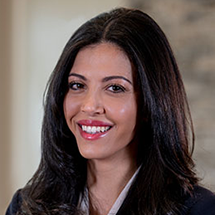 Director of Global Corporate Affairs
Ocean Spray
Christina Ferzli has dedicated her career to building a healthier future for our people, planet and communities—making her a natural fit to join the Ocean Spray cooperative. "It is such a meaningful opportunity to work for a farmer-owned cooperative that is harnessing the intrinsic power of the cranberry in its products, while at the same time caring for and improving our environment," she says.
As Ocean Spray's Director of Global Corporate Affairs, Chris leads Ocean Spray's Health and Wellness, Public Relations, Consumer Engagement, Executive Communications, Corporate Social Responsibility and Government Affairs teams. In this role, her primary goal is to ensure we connect our farms to families for a better life and share Ocean Spray's unique story across the globe.
Chris joins Ocean Spray from the Milken Institute's Center for Public Health where she fostered strategic partnerships and led programming to elevate sustainable solutions to the health crises around the globe. Prior to Milken, Chris served as Strategy Director and Legal Counsel for Michelle Obama's Partnership for a Healthier America, where she worked with corporate leaders, health experts, government officials, and celebrities to improve health and wellness in all communities.
For the past 12 years, Chris has garnered more than 200 corporate partnerships, led dozens of marketing initiatives, engaged more than 100 celebrities, and directed legal and compliance strategies—all with the health and well-being of kids, families and communities at the core of her work.