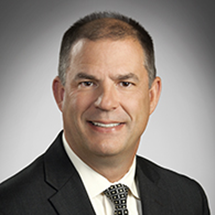 President and CEO
Group Health Cooperative of South-Central Wisconsin 
Mark Huth, MD, is President and CEO of Group Health Cooperative of South-Central Wisconsin (GHC-SCW), a position he has held since January 2016. Mark has also served GHC-SCW as Chief Medical Officer, Chief of Staff, Clinic Site Chief and as a member of the Board of Directors.
He is board certified in Family Medicine and continues to see patients at GHC-SCW clinics. Prior to joining GHC-SCW, Dr. Huth worked within the University of Wisconsin-Madison Department of Family Medicine clinics; he also did his residency training and served as Chief Resident at UW-Madison.
He completed his medical school training at Oregon Health and Sciences University in Portland, where he received the Alpha Kappa Kappa award for "outstanding dedication and skill in the care of patients." Dr. Huth did his undergraduate studies at Concordia University in Portland, Oregon, where he was a Presidential Scholar and earned a bachelor's degree in Management and Communications.
Dr. Huth's first career was in music, working as a professional pianist, organist and choral director, as well as a product designer for a classical organ manufacturer. He continues to be involved in music as his schedule allows. Dr. Huth lives in Madison, Wisconsin, with his wife and family.