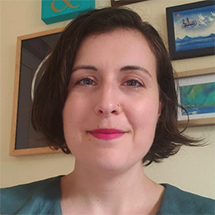 Program Manager, International Centre for Co-operative Management
Saint Mary's University
Erin Hancock works with the International Centre for Co-operative Management at Saint Mary's University in Halifax, Canada. Formerly, she was the Manager of Research and Education with Co-operatives and Mutuals Canada, the national apex association for cooperatives across Canada. Over the years she has also served on the boards of the Co-operative Development Foundation of Canada, the Cooperative Grocers Network, the Ottawa Women's Credit Union, the North American Students of Cooperation, the Bus Stop Theatre Co-operative, the Community Housing Management Network Co-operative and others. She was a co-founder of the Co-operative Enterprise Council of New Brunswick.
She holds a master of philosophy degree in Public Policy and Co-operative Development, a bachelor of philosophy degree in Leadership Studies and International Development, a Certificate in University Teaching, and a Certificate in Co-operative Management.