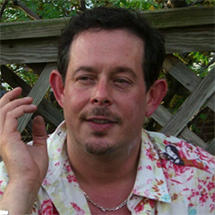 The Training Collective, NYCNoWC and Caracol Language Co-op

Félix E. Gardón is a language justice interpreter and Puerto Rican actor, artist andactivist. Félix has more than 25 years of experience as a trainer, advocate and curriculum developer working in social justice issues through the lens of intersectionality. They are co-founder and co-chair of Queers for Economic Justice and a worker-owner of Caracol Language, LLC for seven years. They have developed and implemented curricula nationwide to promote engagement, inclusivity and honor diversity in our communities.
Their work as a language advocate began in the mid-80s as an activist in an English-only movement, where they organized and created the Spanish Standards of Care for HIV/AIDS, the Guidelines for Cultural Competency for the State of New Jersey, and translated the "What About AIDS?" exhibit at the Franklin Institute in Philadelphia.
As an artist/actor, Félix has produced, directed and performed off-Broadway as a member of the Open Theater and Theater of the Oppressed with the Medicine Show Theater.