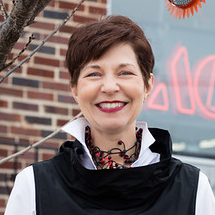 Co-Founder and CEO
11 Ace Hardware stores
Gina Schaefer is the Co-Founder and CEO of 11 Ace Hardware stores located in Washington, DC; Baltimore, Maryland; and Alexandria, Virginia. She is a passionate entrepreneur who grew her company from one to 11 stores over a 12-year period. With her husband, she leads a multi-million dollar small business that employs 250 people.
Gina has tirelessly focused on the "Return to Main Street" movement in her own city of Washington DC to promote Shop Local campaigns and community revitalization projects in urban areas. This has resulted in partnering with many local entrepreneurs and creating a DC-based program to sell locally made goods from prime shelf space in her stores.
Gina serves on the CCA Global Partners, Inc. Board of Directors and is a former member of Ace Hardware's Board of Directors. She also serves on the non-profit boards of House of Ruth and the Institute for Local Self-Reliance.