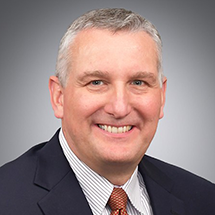 Senior Vice President, Business and Industry Development
National Rural Utilities Cooperative Finance Corporation
Greg Starheim is Senior Vice President of Business and Industry Development at National Rural Utilities Cooperative Finance Corporation (CFC). Prior to joining CFC in 2015, he held the position of President and CEO of Kenergy Corp., a 55,000-member electric distribution cooperative serving 14 counties in western Kentucky.
Starheim began his professional career in 1984 with General Electric Company where he held global leadership positions in various functional areas, predominantly in the power generation industry. He later served as CEO and general manager of Delaware County Electric Cooperative, a distribution and generation electric cooperative serving the greater Catskill Mountains area of upstate New York.
Starheim holds a bachelor's degree in mechanical engineering from Clarkson University and an MBA from Rensselaer Polytechnic Institute. He is a licensed professional engineer and a Six Sigma Master Black Belt.