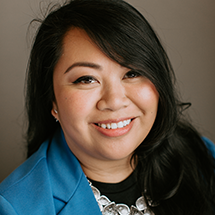 Senior Manager, Learning and Development, Human Resources
BECU
Hazelmae Overturf is a Senior Manager of Learning and Development in Human Resources at BECU. BECU is currently the largest credit union in Washington state and fourth largest in the nation. She manages a team of professionals that designs and delivers enterprise-wide training and learning program initiatives, including work for BECU's DEI program, BILD (Belonging Inclusion and Leveraging Differences). Hazelmae attests that earning her DE distinction in April 2019, as the catalyst to her involvement in the Credit Union movement. She hopes to help usher in diverse representation and the power of the youth for the Credit Union industry. Thanks to the Cooperative Trust, she "crashed" the 2020 Government Affairs and African American Credit Union Coalition's conferences. She is a co-chair for BECU's Young Professionals Employee Connection Group, board member for a non-profit focused on improving reading literacy in lower income schools, and an advisory board member for the Design Thinking program at a local college.
Prior to BECU, Hazelmae taught English in South Korea, after completing her undergraduate degree in Sociology at Pacific Lutheran University in Tacoma, WA. She is currently an Executive MBA candidate (graduating December 2020) at Washington State University. The thread of her passion for learning and education has been evident throughout her professional and personal commitments.