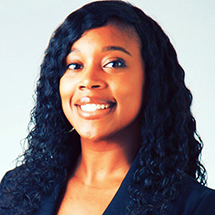 Membership Development Manager
Local Government Federal Credit Union
Jazmine Kilpatrick is a Membership Development Manager in the Marketing Department at Local Government Federal Credit Union (LGFCU). LGFCU is dedicated to providing financial services exclusively to North Carolina local government employees, elected/appointed officials, volunteers and their families. Jazmine leads a dynamic group of credit union advocates and relationship-builders who promote LGFCU to North Carolina's 540 municipal governments and 100 counties.
After receiving her CUDE™ designation in May 2019, Jazmine created a podcast centered around diversity, equity, and inclusion—Brunch With Jaz. In the two latest episodes, she facilitated a virtual panel discussion with DEI experts from local government entities and a roundtable conversation with fellow CUDE's about the credit union movement as it correlates to DEI. Those episodes can be viewed on her YouTube Channel.
Jazmine obtained her bachelor's degree in Journalism and Mass Communications from North Carolina Agricultural & Technical State University. She also holds a master's degree in Public Administration from Appalachian State University. She recently became a Certified Credit Union Financial Counselor.
Prior to her tenure in the credit union industry, Jazmine spent her career in local government with an emphasis on marketing and community relations. Jazmine serves on a community council through her local chamber of commerce that focuses on business retention and recruitment. She also volunteers with a local nonprofit as a committee member to enhance community awareness and resource development for pre-k children. Jazmine is also a member of Delta Sigma Theta Sorority, Inc.