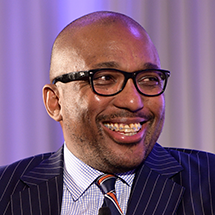 Senior Vice President of Strategic Initiatives 
National Cooperative Bank
John Holdsclaw IV serves as Executive Vice President of Strategic Initiatives at the National Cooperative Bank (NCB) located in Washington, DC. John is charged with establishing NCB as a thought leader in community development and cooperative expansion that leads to business development and solutions.
Prior to coming to NCB, John worked as Director of Policy and Development at Capital Impact Partners, a national certified Community Development Financial Institution (CDFI), where he developed and implemented the organization's public policy strategy.
He currently serves as the Board Chair of the National Coalition of Community Development Financial Institutions and serves on the boards of Self Help Venture Fund, Charleston LDC, Global Communities, and the ABA Stonier Graduate School of Banking. In 2019, John received NCB's Stanley W. Dreyer Spirit of Cooperation Award, bestowed annually to those who live and work with the spirit of cooperative principles. In addition, John is a member of Phi Beta Sigma Fraternity, Inc.
John holds a bachelor's degree in Political Science from North Carolina A&T State University, a master's degree in Community Economic Development from Southern New Hampshire University, a diploma from the Stonier Graduate School of Banking and a Wharton School Leadership Certificate and a Certificate in Diversity and Inclusion from Cornell University.