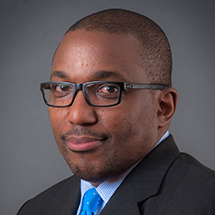 Senior Vice President of Corporate Affairs
National Cooperative Bank
John Holdsclaw IV serves as senior vice president of Corporate Affairs at National Cooperative Bank (NCB). John is charged with the cultivation of relationships in the community development finance arena, advancing social investments and product development at the bank. NCB's mission is to support and be an advocate for America's cooperatives and their members—especially in low-income communities—by providing innovative financial and related services.
Prior to joining NCB, John worked as director of policy and development at Capital Impact Partners, a national certified Community Development Financial Institution (CDFI), where he developed and implemented the organization's first public policy strategy. In addition, John worked as grassroots coordinator and associate director of the Government Affairs division at the National Head Start Association—the only national organization dedicated solely to Head Start that promotes school readiness of children under 5 from low-income families.
John is the recipient of Capital Impact Partners' Outstanding Corporate Achievement and Business Impact Award. Recently, he received NCB's Stanley W. Dreyer Spirit of Cooperation Award, bestowed annually to those who live and work with the spirit of the cooperative principles. He currently serves on numerous boards of directors is a proud member of Phi Beta Sigma Fraternity, Incorporated.
John was featured in the book Head Start Success Stories, selected as a North Carolina Head Start Association's Alumni of the Year and the inaugural class of fellows of the Children Defense Fund Policy and Advocacy Institute for Emerging Child Care and Early Educations Leaders.
He holds a bachelor's degree in Political Science from North Carolina A&T State University, a master's degree in Community Economic Development from Southern New Hampshire University, a diploma from the Stonier Graduate School of Banking and a Wharton Leadership Certificate from the Aresty Institute of Executive Education at The Wharton School of the University of Pennsylvania.