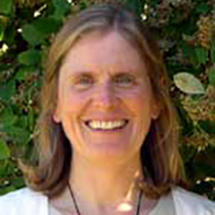 Senior Director, Membership and Cooperative Relations
National Co+op Grocers
Karen Zimbelman currently serves as Senior Director of Membership and Cooperative Relations at National Co+op Grocers. She has worked with and for co-ops at the local, regional and national level since 1980. Until mid-2007, she also served as Executive Director of Cooperative Grocers' Information Network (or Cooperative Grocers Network), a position she had held since its founding in 1997.
Previously, Karen was a consultant specializing in co-op development, governance, education programs and employee benefits. She was the founding executive director for two regional co-op grocers' associations, establishing and managing regional supply agreements, promotions, training, audits and other programs. For five years, she was Editor of the Association of Cooperative Educators' (ACE) newsletter. Karen wrote How to Start a Food Co-op, co-authored The Ownership Toolbox, developed a co-op training program for staff, and wrote many articles and books for co-ops and credit unions. She provided governance training to hundreds of co-op boards for 20 years. In May 1994, she was presented the Cooperative Service Award for dedicated leadership and service to co-ops at CCMA and, in April 1999, was recognized for outstanding contribution to co-op education by ACE.
Karen has been employed by North Coast Co-op, NCBA CLUSA, Rochdale Institute, North American Students of Cooperation (NASCO), and People's Food Co-op of Ann Arbor. She has a master's degree from University of Michigan; her thesis was awarded the 1983 NCB Glenn Anderson award for outstanding consumer cooperative research. Karen has extensive co-op and non-profit board experience, including over 25 years on the Supervisory (audit) Committee of Coast Central Credit Union (ongoing) and 12 years as Board President of Frontier Co-op (until 1995). She has also served on the boards of ACE, Michigan Employee Ownership Center, Co-op Center of Truman College, and People's Food Co-op. For two years, she served as U.S. representative to the Consumer Committee of the International Co-operative Alliance.
Karen lives in Eureka, California with her husband, Chris Copple, retired general manager (and founder) of a worker co-op, Restif Cleaning Service Cooperative.