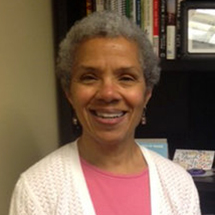 Community and Equity Learning Partner
Sewall Foundation
Lauress Lawrence joined the Sewall Foundation in 2015 after two decades as a faculty member in Religious Studies and director of Multicultural Affairs at Regis College in Weston, Mass. Prior to working at Regis, Lauress served on the pastoral staff of a Catholic parish in Roxbury and was a grant maker at Grants Management Associates in Boston, where she developed skills and expertise in community outreach, social justice and philanthropy. She graduated from Smith College with a degree in Latin American Studies and completed graduate degrees at Boston University in both Pastoral Ministry and Biblical Studies.
Lauress devotes much of her energy to Sewall's Healthy People Healthy Places program. She is committed to deep equity and community engagement, with special concern for marginalized communities and for the Earth. She serves on the board of Maine Initiatives and on the Grants Committee of the Maine Health Access Foundation. She also serves on the Editorial Board of the Wisdom Commentary Series, a 58-volume reference resource of feminist biblical interpretation; she is writing vol. 36 in that series, on Joel, Obadiah, and Jonah. Lauress lives in Portland with her husband Mark and their Goldendoodle Teddy.