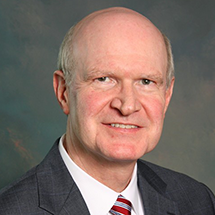 President and CEO
State Employees' Credit Union
Mike Lord joined State Employees' Credit Union (SECU) just after graduating college and has spent his entire 44-year working career at the credit union. He spent seven years in SECU's branch network as a Loan Officer and was a Branch Manager/VP of one of our branches. He served as CFO for 31 years and has been President and CEO for the past three years.
SECU is a $40 billion financial cooperative with 2.4 million members, 7,000 employees, 1,100 ATMs, 267 branches, an interactive website, contact centers, voice response and mobile services. Mike serves as Board Chair for each of SECU's wholly-owned CUSO subsidiaries, including Credit Union Investment Services, Inc. (a registered representative holding company), SECU Brokerage Services, Inc. (an introducing broker/dealer), SECU Life Insurance Company, SECU*RE (a property management company), and as President of the SECU Foundation. The Foundation is funded by SECU's members and has invested about $170 million in projects and scholarships in communities across North Carolina.
Mike graduated from North Carolina State University with bachelors' degrees in Business Management, Accounting and English. In the past he was a CPA, a Certified Credit Union Executive, a licensed Real Estate Broker, held multiple insurance licenses and a Series 24 Financial Operations Officer designation.
Mike has been actively involved in the Raleigh community and the credit union industry at the local, state and national levels. Over the years he has held positions of officer or director in various community service organizations including the Jaycees, Lions and Community Workforce Solutions (a private non-profit organization formed to promote independence for persons with disabilities), and professional organizations including the Carolinas Credit Union League Tarheel Chapter, Credit Union National Association committees and the CUNA CFO Council.
Mike and his wife, Jo Conroy, have been married for 36 years.