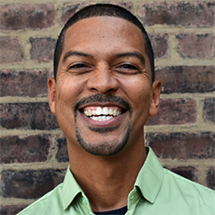 Founder
Green Worker Cooperatives
Omar Freilla is an Afro-Dominican Bronx native, serial trailblazer, social entrepreneur and movement builder with a passion for community self-determination and creating solutions to social, environmental and economic injustice. He is the founder of Green Worker Cooperatives and coordinates its Co-op Academy, the first business accelerator for worker cooperatives in the U.S. Omar has over 16 years of experience in cooperative and green business development. Before that, he was a longtime organizer, challenging environmental racism, classism and sexism.
He has been part of the leadership of the NYC Environmental Justice Alliance; Sustainable South Bronx; U.S. Federation of Worker Cooperatives; Democracy at Work Institute; NYC Network of Worker Cooperatives; and the Story of Stuff Project. He has been a fellow of the Open Society Institute; Environmental Leadership Program; and the Democracy at Work Institute. He also co-curated the NYC portion of the BMW Guggenheim Lab, a project of the Guggenheim Museum.
His writings have appeared in numerous books, blogs and articles and he has been featured in several documentaries, including Leonardo DiCaprio's environmental documentary The 11th Hour. Omar has received numerous awards for his work, including the Rockefeller Foundation's Jane Jacobs Medal for New Ideas and Activism and inclusion in various "Power 100" lists published by magazines such as Ebony, Essence and The Root.
He holds a master's degree in Environmental Science from Miami University of Ohio and a bachelor's degree from Morehouse College where he also co-founded the organizations Black Men for the Eradication of Sexism and Students for Afrikan Amerikan Empowerment/Students for All Afrikan Empowerment. Omar enjoys helping people, things and relationships grow as a loving father, husband and gardener in the Bronx.