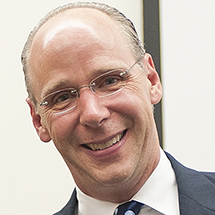 Founding President
ROC USA®
Paul Bradley is the founding president of ROC USA, LLC, a nonprofit social venture that makes resident ownership of manufactured ("mobile") home communities viable and successful nationwide.
ROC USA® operates through a network of nine nonprofit technical assistance providers and a subsidiary CDFI, ROC USA Capital. ROC USA and Network affiliates have helped co-ops preserve 16,850 affordable homes and 247 communities in 16 states. ROC USA Capital has delivered over $240M of financing since 2009.
Prior to founding ROC USA in 2008 to scale resident ownership, Paul served as vice president of the New Hampshire Community Loan Fund and led the ROC line of business, including co-op technical assistance and financing, single-family lending and new development.
Paul earned his bachelor's degree in Economics from the University of New Hampshire and graduated from Achieving Excellence in Community Development, an executive education program of NeighborWorks® America and the Harvard Kennedy School.
He has earned numerous awards, including:
Ashoka Fellowship, 2011
Carsey Institute at UNH, Social Innovator of the Year, 2013
Jerry Voorhis Memorial Award, National Assoc. of Housing Cooperatives, 2014
Cooperative Hall of Fame, 2018
In 2019, Paul was elected by NCBA CLUSA members to serve on the association's Board of Directors. He also serves on the Development and Preservation Committee of the National Association of Housing Cooperatives.
Paul lives in Concord, New Hampshire with Martha, his wife, and two daughters. In addition to family and work, his passion runs deep for basketball, mountain biking, tele-mark skiing and his vegetable garden.