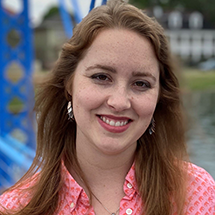 Communications Wizard
Round Sky Solutions
Rebecca Fisher-McGinty joined Round Sky Solutions as a worker owner and the Communications Lead in 2016. She's always had a sense that group processes and the how hold a lot of power in our teams. In her work with Round Sky, she's committed her work to support cooperative leaders to live out their values through facilitating generative and meaningfully collaborative group processes.
Rebecca is currently engaged in Saint Mary's University's Masters of Cooperative Management to strengthen her understanding of the cooperative and solidarity economy and her development as a worker-owner. Her bachelor's degree is in Environmental Policy and she believes that cooperation is the way we get answers to the most complex issues.