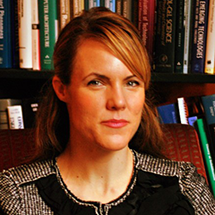 Managing Director, Integrated Operations, Food Initiative Team
The Rockefeller Foundation
Sara Farley serves as Managing Director of Integrated Operations for the Food Initiative Team at The Rockefeller Foundation. A Science, Technology and Innovation (STI) Strategist by training, Sara served the World Bank for nearly a decade, helping the institution rewrite its strategy on STI before designing and running a number of STI-led investments across Latin America, Eastern Europe and Africa, including the institution's first strictly STI-focused investment in Africa—Uganda's Millennium Science Initiative. Sara went on to co-found and lead the Global Knowledge Initiative (GKI), a not-for-profit organization specializing in fueling innovation, facilitating problem-solving networks and developing systems thinking capacity. Sara led GKI's work as The Rockefeller Foundation's Social Innovation Lab on Waste and Spoilage and, subsequently, its work as the designated Innovation Partner for the YieldWise Initiative. 
A graduate of Stanford University's Science, Technology and Society program, Sara returned to the Farm for her graduate degree in International Policy Studies before spending a fellowship year doing post-graduate work in Technology Policy and Management at Universidad de Buenos Aires.