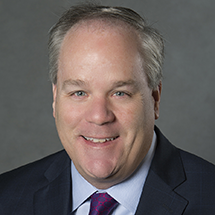 Senior Vice President of Communications
National Rural Electric Cooperative Association
As senior vice president of communications, Scott Peterson is responsible for the overall direction of public relations, marketing and branding, national media outreach, publications and digital communications at the National Rural Electric Cooperative Association.
Before joining NRECA, Scott was senior vice president for communications at the Nuclear Energy Institute and part of its executive leadership team from 2001 to 2016. In 2011, Scott directed an award-winning crisis communication and reputation management strategy after the reactor accident in Fukushima, Japan. Under his leadership, the Nuclear Energy Institute received the Global SABRE Award for best global association public relations campaign and the Public Relations Society of America's Silver Anvil for best crisis communications strategy in recognition of this work.
Scott was a journalist for seven years at newspapers in three states. He has a bachelor's degree in Journalism from the University of North Carolina at Chapel Hill and completed the Reactor Technology Program for Utility Executives at the Massachusetts Institute of Technology.