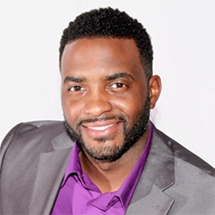 Assistant Vice President of Member Solutions and Brand Ambassador
Statewide Federal Credit Union
Sedric Brinson is the Assistant Vice President of Member Solutions and Brand Ambassador for the Statewide Federal Credit Union. Through this difficult time of COVID-19, a department was formed to help members through hardships of the pandemic. Sedric is responsible for creating solutions to keep members financially sound and excited that their credit union is there for them through times of uncertainty. His purpose and passion is simply helping people, which is totally in line with the credit union mission of "People Helping People."
Sedric is a huge advocate of financial literacy and helping to meet the needs of members in the community. He has served in the finance industry for over 16 years and has used that experience as a driving force to making a difference within the credit union space. Sedric received his CUDE™ designation in the Best Class Ever of November 2017. He is also a recent graduate of the Credit Union Management School at TCU in 2019. He currently serves as the chairman and co-founder of L.E.A.D MS ( Leaders Engaged in Action and Development), a young professionals group geared specifically toward the development of young, eager professionals looking to be mentored and developed in their careers. As the first-of-its-kind program in Mississippi, it has already received national attention from other credit union pioneers. Sedric believes that young people are the driving force of this country moving forward and he wants nothing more than to be a mentor toward the excellence that they already possess.
Sedric believes that God, family and friends are the pleasures and joys of life. Without them, there is no success. He is husband to his beautiful wife Courtnie, and the couple has three handsome boys: Braylon, Brennon and Bryson.
Outside of family and work, Sedric has a strong passion for music. He is one of the lead singers for the 601 Live Band, an energetic cover band that loves to bring people together in unity to have a great time. The band covers everything from Old School Stevie Wonder to today's top hits.