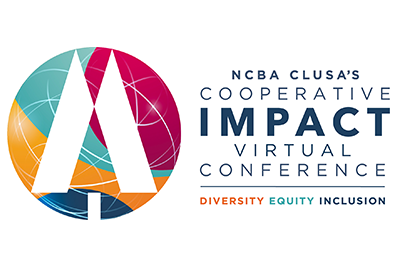 This year's IMPACT Track will amplify how cooperatives are addressing their obligations to create diverse, equitable and inclusive workplaces and boards, and how co-ops can better meet the needs of communities that have been excluded from economic participation and advancement. Check out some of the sessions we're working to bring you this fall below, and register today to join hundreds of co-op developers, financers, community and city leaders, innovators, economists and policymakers in October!
A Conversation About Business Continuity
Moderated by Stratus Wealth Advisors, this roundtable discussion will center attendee participation. This session will focus on the challenges that purchasing cooperatives and their members are facing as they continue to deal with the economic and social effects of COVID-19 and strategies for using this health and economic crisis to create more resilient business continuity plans so that both the purchasing cooperatives and their members can better withstand economic shocks, allowing them to focus on bringing long-term success to their communities as opposed to short-term profits to themselves. Discussion questions will touch on both the emotional and financial challenges purchasing cooperative leadership and their members face, such as:
How many of you and your members had a business continuity plan in place prior to the coronavirus crisis?
What are the most important elements of a business continuity plan for your industry?
How many of your members have performed an operational or risk assessment?
What are the important elements of a business continuity plan?
When is there time to discuss business continuity planning and where do I turn for educational resources?
I like the idea of a business continuity plan, but I have no idea where to start. Can someone help me?
Moderator: Sam Brownell, Founder, Stratus Wealth Advisors
Panelist: Andrea Dunathan, Founder & Principal, Dunathan Consulting
Actions Speak Louder than Intentions
During this session, Michele Padilla and Lisa Cavanaugh will explore what it means (and doesn't mean) to have privilege and how privilege can be turned into allyship that moves us from intention to action regardless of the type of privilege experienced or discrimination faced. The session will include an activity on recognizing privilege without judgment and resources for those who wish to shift from observers to allies of targets of discrimination and unearned disadvantage.
Speaker: Lisa Cavanaugh, Vice President of Leadership Development Experiences, FCC Services
Speaker: Michele Padilla, Director & Senior Leadership Consultant, FCC Services
Analyzing, Naming and Shifting Power Dynamics in Your Team
Often, our cooperatives are formed as a response or alternative to the destructive power dynamics in the mainstream hyper-capitalist and oppressive systems. However, it often takes some unlearning and new structures to help us create the workspaces that we dream of. Sometimes, we even experience harmful power dynamics and uncomfortable situations in our teams that we're trying to replace. Through presentation and simulation, you'll learn how to analyze the power (harmful and generative) dynamics in your team. There will be time for cooperative leaders and employees to dive into the dynamics that they've experienced and how to make sense of it and make changes. Participants will learn some simple, yet powerful tools and frameworks for making incremental change in their coops as well as strengthening their democratic decision-making and communication processes. In sum, we'll share our organizational analysis of power (the Power Matrix), discuss how power affects every facet of our work lives and, most importantly, consider what we can concretely do every day to use collaborative power through comprehensive communications and democratic decision-making practices.
Moderator: Rebecca Fisher-McGinty, Communications Wizard, Round Sky Solutions
Beneficial Electrification: Help America, Protect the Climate and Grow Economic Opportunities
Beneficial electrification means replacing direct fossil fuel use (gasoline, propane, etc.) in homes with electricity in a way that both reduces emissions and cuts costs for the homeowner. This panel brings together leaders in beneficial electrification and will highlight how electric cooperatives have pioneered this work. Panelists will describe how beneficial electrification works, how they incorporate equity into its financing, and the empowerment it brings to those facing the highest financial burdens and highest barriers to opportunity. Low and moderate-income communities, communities of color and rural Americans are leading and benefitting from this work; panelists will describe how they and their partners will make further progress. Growing interest in social justice and financial risks from the COVID-19 pandemic make the case for beneficial electrification even stronger. This work will help us build the more energy efficient, climate friendly, opportunity-generating and just economy we need.
Moderator: Kate LaTour, Director of Government Relations, NCBA CLUSA
Panelist: John Michael Cross, On-Bill Financing Project Manager, Environmental and Energy Study Institute
Bringing the Cooperative Model to Equitable Scale
If this last year has taught us anything, it is that we are stronger together. Our systems are broken and inequality has seeped into all of them. As a result, our systems are failing working families and communities across our country. People want change. They want to see their governments, institutions and the private sector commit to helping us create an economy that is resilient in the face of an economic depression, natural disaster or a global pandemic. They want an economy where equity, resilience and inclusion are rooted in the workforce. Whether it is in response to the hollowing out of a manufacturing base in England in 1844, or Lewiston, Maine in the 2000s, preserving our agricultural economy during and after the Great Depression, or providing electricity to rural America, the cooperative model has proven time and again to be the economic model that is both deliberative and flexible in responding to community needs and underserved populations. The time is now to take the model to scale. What will it take? This panel will highlight how the focused combination of federal, state and private support can create place-based, multi-sector cooperative ecosystems, building a more equitable economy addressing the needs of underserved communities. This session will feature panelists from the U.S. Department of Agriculture, private philanthropy, state government and cooperative developers who are harnessing these resources and coordinating targeted cooperative development projects to meet the community needs of underserved communities.
Moderator: Doug Clopp, Director of Development and Communications, Cooperative Development Institute
Building an Equitable and Inclusive Local Co-op Ecosystem in Washington, DC
Washington, DC has a long history of food, worker and housing cooperatives. It is from these that public officials, NGOs, activists and funders are increasingly looking for lessons, solutions and inspiration. They aim to build an integrated co-op ecosystem centered on social justice and racial equity. They are reviving the co-op movement in the District to help meet pressing needs for employment, services, food and housing. These diverse actors are also building on the recent momentum generated by local advocates of limited equity housing and the recent growth of area purchasing co-ops. During this session, panelists will highlight the progress of the DC Limited Equity Housing Task Force, multiple initiatives and grants that promote common goals of building food and worker cooperative ecosystems, and finally they will lift up purchasing cooperatives and detail how these co-ops are helping black owned businesses grow. Finally, panelists will raise co-op conversion as an effective strategy to preserve existing minority-owned businesses that service long-term residents and are part of the social fabric of their neighborhoods.
Moderator: Alison Powers, Manager, Cooperative and Community Development, Capital Impact Partners
Panelist: Jennifer Bryant, Program Manager for Community Wealth Building Initiatives, Washington Area Community Investment Fund
Panelist: Paul Hazen, Executive Director, Overseas Cooperative Development Council
Business and Member Financial Recovery and Resilience
A panel of practitioners, cooperatives and experts in the field will examine the financial and business challenges ahead and discuss strategies necessary for cooperatives to have a successful recovery. The panel will discuss how best to adapt existing strategies and consider how to employ new and innovative business practices that will be required in the new business environment. There also will be discussion of how cooperatives can be included in government-sponsored stimulus and recovery plans in the U.S. and abroad.
Moderator: Suzy Cheston, Chief of Party for Financial Inclusion, World Council of Credit Unions 
Decolonizing the U.S. Co-op Movement: Lessons Learned from the African American Cooperative Movement
People of African descent in the U.S. have a long and vibrant but largely hidden experience of cooperative ownership since at least the 1700s and have had a quiet presence at times in the U.S. mainstream cooperative movement. What can we learn from this history and these experiences especially for diversity, equity and inclusion in the U.S. cooperative movement? This workshop will highlight examples of both white supremacist sabotage against Black co-ops, and white micro-aggressions and institutional racism that have limited and discouraged Black and Brown participation in U.S. cooperatives and the cooperative movement. On the flip side, we will also examine how African American cooperators and their co-ops continued to survive and prevail; and the pivotal role of African American women in this movement. We will explore understanding how subaltern populations use cooperative and solidarity economics to address marginalization, discrimination and poverty; the importance of solidarity and trust in the sustainability of co-ops and how cultural, racial and ethnic sensitivities or insensitivities build or destroy trust; and the importance of organizational leadership and support at the local and national levels. African American cooperatives continue to struggle against racism, patriarchy, classism, cultural misunderstandings and the racist micro-aggressions of fellow cooperators, so-called allies, and funders and policymakers. We will examine existing and develop new strategies to mitigate and reduce, if not eliminate, these aggressions and barriers with the goal of building true equity and inclusion.
Moderator: Jessica Gordon Nembhard, Professor of Community Justice and Social Economic Development, John Jay College of Criminal Justice
Educating in Diverse Ways with Common Standards for Cooperative Management
Education for all those involved in cooperative enterprises happens in many different environments. From on-the-job training to workforce development to the university and everything in between. We want cooperative owners to be smart and effective at all they aim to do. While our economy is changing so fast, lifelong learning will forever be a truism for managing change in our cooperatives and the world of work. This interactive workshop will feature a range of educators describing what they deliver and how. We will explore the common standards and values we promote through each venue. We will reference principles of adult education and professional development for how they apply in our learning environments using both face-to-face instruction and web-based styles. We will reveal what lessons are being put forth at the university level, in business schools as part of executive training, and in communities where styles of popular education are used for workforce education and through joint labor-management initiatives. We will aim to solicit from one another what works when attempting to reach a diverse workforce, what can be enhanced and what there is to share, replicate and expound. Participants should leave with a sense of the possible for the different points of access for worker-owner education with some clear, common and declared standards we can all uphold and celebrate.
Moderator: Rebecca Lurie, Community and Worker Ownership Project Coordinator, CUNY School of Labor and Urban Studies
Origins, Consequences and Healing: Changing the Co-op Leadership Lens
Communities of color have always understood the significance and impact of cooperation for both survival and success. Still, oppression continues to negatively impact these communities, even within cooperative spaces. If you want to welcome those who've been historically marginalized or underrepresented, if you want to reach beyond your usual audience, and if you're ready move from "intention to action," this workshop is where you begin, where you practice and where you decide to shift. The lens we use to choose, decide, judge, evaluate, etc. is the same lens our Founding Fathers used to "design" America to benefit a specific subgroup of the population. We've been using that lens ever since despite its failure to firmly grasp and tell the story of our democracy. The cooperative democratic process, with our principles and values, offers a unique opportunity to demonstrate what is possible for all of America's citizens when that shift is made. Participants in this interactive workshop will focus on how America's founders created and shaped the current lens, what has happened as a result, and how we can all heal by shifting the lens through which we perceive "right," "appropriate," "just," "fair," etc. In looking at our co-op industry we will examine how—despite our principles and values—we've allowed ourselves to become a mere microcosm of the many American ills including biases, exclusion and inequity. When sincerely practiced, cooperative principles and values accept that difference is beneficial to the whole, and that equity and inclusion from boards to staff, membership and communities feeds and fills the needs of our nation. We will begin with a multimedia presentation designed to take us from the beginning to today through the current lens being used, and then engage in role play to demonstrate shifting the lens of leadership. After our role play exercise, attendees will break out into groups for a discussion on ways to approach shifting the lens to incorporate "walking the talk" of equity and inclusion in leadership development. Finally, we'll report out on our findings and discuss tools for implementing what we've learned when we return home.
Speaker: Patrice Lockert Anthony, Interim Executive Director, Groundswell Center for Local Food and Farming
Speaker: Eldred Harris
State of the Co-op Economy: Cooperatives, COVID-19 and Key Opportunities to Create a Better World
Join members of the Council of Cooperative Economists as they discuss how cooperatives across all sectors are working to respond to specific opportunities cooperatives have during the COVID-19 pandemic to make their communities more equitable, inclusive and generally just better places. This moderated panel will cover the experiences of diverse communities across the U.S. and beyond. Each researcher will present research to ground their analyses of the current solvable opportunities co-ops face, both generally and by specific sector. Our moderator, Tamela Blalock of NCBA CLUSA, will guide a group discussion of how we can harness co-ops to build a better, more equitable economy during the recovery from COVID-19. Finally, the panel will close with 15 minutes of audience Q&A.
Moderator: Tamela Blalock, Vice President of Cooperative Relations, NCBA CLUSA
Panelist: Samira Salem, Senior Policy Analyst, Credit Union National Association
Panelist: Russell Tucker, Chief Economist, National Rural Electric Cooperative Association

Saint Mary's University Pre-Conference Course: Excellence in Member-Centric Governance and Management
Register for this engaging course on Excellence in Member-centric Governance and Management. Designed for seasoned decision-makers and emerging leaders from any sector or type of cooperative, all will benefit from this knowledge-rich course. Offered by the International Centre for Co-operative Management at Saint Mary's University and hosted in conjunction with NCBA CLUSA's Cooperative IMPACT Conference, this participatory education experience focuses on enhancing your knowledge and building your network. Discuss and debate the many facets of the membership aspect of cooperatives, including: people-centered management, ownership and control, and network governance. Grapple with the unique challenges inherent in leading and managing cooperatives while including voice, representation, participation and engagement of people at the core. This session will meet October 5 and 6 from 10 am-noon and 1-3 pm EDT.
Speaker: Karen Miner, Managing Director, International Center for Co-operative Management, Saint Mary's University
Speaker: Sonja Novkovic, Professor of Economics and Academic Director, International Centre for Co-operative Management, Saint Mary's University