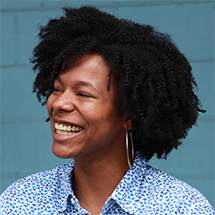 Program Associate
Center for Economic Democracy
Amethyst Carey is a Boston-based community organizer, co-op advocate and solidarity economy practitioner. As a Program Associate for the Center for Economic Democracy, Amethyst coordinates the Massachusetts Worker Ownership Table, a multi-stakeholder racial and economic justice initiative advancing policies, financing and technical assistance to grow employee ownership across the state. Before joining CED, Amethyst served as an Associate and Consultant for Dudley Street Neighborhood Initiative's nationally recognized Community Land Trust, Dudley Neighbors Inc., where she supported resident and community engagement. Amethyst also worked as a Production Manager for the Design Studio for Social Intervention, where she coordinated an arts driven creative place making series in the Uphams Corner neighborhood of Boston.
Amethyst serves as a board member for Co-FED, a national nonprofit supporting young people of color in the practice of cooperative economics and values through food and land, and is the board president for Boston Community Cooperatives, a network of housing co-ops where she currently lives. She is an avid community gardener, music lover and former collegiate athlete, and is passionate about envisioning new futures for the poor and working class Black communities that raised her. Amethyst a graduate of Oberlin College.