This article is part of series celebrating NCBA CLUSA's 25 years of continuous impact in Mozambique by highlighting some of our projects' key achievements and milestones.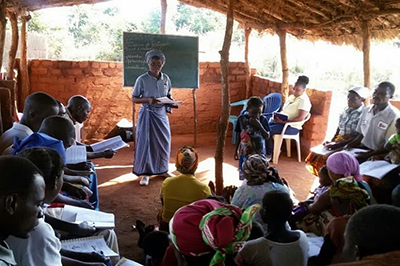 From the onset of NCBA CLUSA's work in Northern Mozambique, we believed that investing in people early on would ensure that our interventions were sustainable and would lead to significant long-term impact. Since 1995, NCBA CLUSA has built the capacity of thousands of Mozambicans—including our own and partner staff, government officials and, most importantly, the leaders and members of producer organizations and small agribusinesses that continue to play an integral role in rural markets.
In the mid-90s, few people in rural Northern Mozambique had access to training or education. Literacy among adults living in rural areas was very low. Among women, literacy rates were even lower, at just 10 percent. Without the ability to read, write and perform basic math, farmers and their producer organizations couldn't break the cycle of dependence on others for information or make informed decisions on their own behalf.
As part of our initial work in Mozambique, NCBA CLUSA developed a functional literacy and numeracy program locally called Educaçao Basica Funcional de Adultos (EBAF). The program continues today and consists of three levels of informal education that enable adults to acquire both practical and conceptual knowledge critical to make them more productive and pro-active problem solvers, setting them on a path of lifelong learning.
The program covers topics including farm and crop management; farmer association management (basic bookkeeping, understanding of financial statements, etc.); marketing (quality issues and price information); health (HIV/AIDS prevention, malaria, cholera, child care and maternal care); association/cooperative member education (roles, rights and responsibilities of members and board directors); credit (difference between capital and interest, benefits and responsibilities of credit); and the role of women and benefits of their participation. Starting in 2017, a greater emphasis of family hygiene and nutrition was added to the curricula.
Through a longstanding agreement with Mozambique's Ministry of Education, NCBA CLUSA's EBAF program is equal to five years of formal education. This means participants who complete all three levels of the program can transfer directly into formal education. NCBA CLUSA has incorporated the EBAF program in many of its activities over the past 25 years, including our current PROMAC II project funded by the Royal Norwegian Embassy in Maputo. With more than 5,600 farmers enrolled—65 percent of whom are women—this activity supports food security and livelihoods by promoting climate-smart agriculture.
Through NCBA CLUSA programming during the past 25 years, more than 75,000 adults have achieved literacy, over half of them women.
Through NCBA CLUSA programming during the past 25 years, more than 75,000 adults have achieved literacy, over half of them women.
In addition to functional literacy, NCBA CLUSA has invested heavily in building up the skills of all its program participants. During the initial years when we focused on association and farmer organizations, we prioritized building the capacity of farmer organization board members, training them in institutional planning, preparation for and running of meetings, problem solving and conflict resolution. We later trained managers of farmer associations and cooperatives in business planning and management techniques, market analysis, contract negotiation and bookkeeping.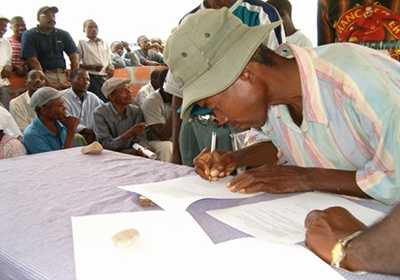 Tens of thousands of farmers have learned about membership rights and responsibilities, cooperative governance processes, and democratic decision making through NCBA CLUSA initiatives.
That initial layer of training laid the foundation for a more entrepreneurial class of farmers—those who are more aware of market needs and opportunities and better equipped to develop and implement strategies in response. NCBA CLUSA's legacy of investing in people continues today in the communities where we have worked throughout the years—and so do the results. More and more farmers are investing in quality inputs and supplies, and a growing number of farmers are adopting conservation agriculture practices to increase their yields and, in turn, their participation in the offtake market.
What has emerged is a new rural business class with the capacity to engage with local government, agribusiness companies and civil society to advocate for themselves and for the betterment of their communities.