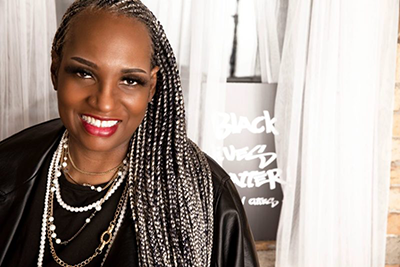 For this issue of Co-op Weekly, we invited our incoming board member LaDonna Sanders Redmond to join us in reflecting on how the cooperative community has changed over the past year. Below, she shares advice on navigating the DEI landscape. The former Diversity and Community Engagement Manager for Seward Community Co-op in Minneapolis, Minnesota, LaDonna is currently a Diversity, Equity and Inclusion Consultant and Coach with Columinate. Her latest workshop series, "Making Change: Implementing DEI Principles for Organizational Impact," will address unconscious bias this week. 
8 things I did after the murder of George Floyd
By LaDonna Sanders Redmond
The murder of George Floyd occurred five blocks from my co-op, Seward Community Co-op. During the Minneapolis uprising, public infrastructure shut down. No one answered 911 calls. Neither the police nor fire departments were available. That night two things came to me: 1.) The United States is not a post racial society—racism is alive and thriving, and 2.) We must build cooperative communities that are committed to anti-racist and anti-oppression principles.
As a DEI/anti-racist trainer, I had to make some choices about how I wanted to be seen and heard as a Black female abolitionist. I needed this clarity to serve my clients and for my own mental health. Post George Floyd murder, this is my theory of change.
1. Stand in my truth
I am unapologetically me
The truth is that I am an abolitionist, a somatic abolitionist.
Abolitionist framing centers liberation. The DEI trainings that I conduct reflect that position. The stories of cooperation that I share include Black, Brown, Native, Asian American, Latinx, Queer, Trans and Non-Binary folk and people with disabilities are very important to me. I tell those stories any time that I can. I stand in solidarity with all freedom movements.
I launched the Abolitionist Challenge to help my co-op community develop the awareness needed to stand with me in the fight for liberation and justice.
2. Tell stories
Indian Sovereignty, Black liberation and Cooperative Abolition
I begin my trainings by acknowledging three narratives: Indigenous sovereignty, Black liberation and Abolition.
I start all my trainings with land acknowledgements and Indian sovereignty. I invite attendees to reflect on whose land they stand on. Creating a shared understanding of the legacy of oppression in this county begins with settler colonialism and genocide.
I call on the Africans who were kidnapped, enslaved and tortured. They also fought for freedom through cooperation. I am their daughter.
I speak of those who have died in police custody. There is a website called #saythiernames, an online database of names of the people who died in police custody.
I tell the story of early cooperators standing in support of the liberation of enslaved Africans and against slavery. 21st century cooperators have inherited the legacy of abolition from the Rochdale pioneers, but they do not know it. From where I sit, abolition is the underlying ethic of the 7 Cooperative Principles.
Abolition is the underlying ethic of the 7 Cooperative Principles.
3. Limit the use of the BIPOC and other acronyms
It's not wrong; it's just not as inclusive as it sounds.
The overuse of acronyms like BIPOC makes racism faceless. The shorthand is dangerous because it erases the very people it was supposed to uplift. Cultural competency requires an appreciation for complexity.
4. Single DEI Training
They can do more harm than good
Rome was not built in a day and neither are DEI results.
White supremacy has an inherent expediency bias. Flying through DEI work does not yield great results. The one-off, 90-minute or three-hour workshop does not build the stamina or endurance need to succeed in DEI work. Effective DEI training is implemented. Implementation changes systems. Systems get the results that they are designed to get. It all takes time.
5. Decenter whiteness in DEI/ Anti-Racism trainings
After the murder of George Floyd, I centered Black, Brown, Indigenous, Latinx, Asian American, Queer and Trans folks in my trainings.
Attending DEI trainings is hurtful to some Black, Black, Brown, Indigenous, Latinx and Asian American people. Listening to white people demand comfort and compassion while discussing racism is more than most people of culture can or should tolerate in their workplace.
6. Eliminate Infantilizing DEI participants
Learning about white supremacy, racism and bias is uncomfortable for folks who live in the dominant culture as white people. Oftentimes this discomfort is translated as danger or feeling unsafe. When that discomfort sets in, a demand is placed upon the trainer to change the training—i.e., make it easier. Changes in tone or specific words are requested to offer comfort to folks in white bodies. This is also known as white fragility.
Racism is not palatable to anyone. There are not any pleasant words or tones that describe the legacy of white supremacy or bias. What white people learn in DEI trainings is what folks in bodies of culture already know—white supremacy is awful.
7. Somatic Abolition
A living, embodied approach to DEI/anti-racism work
The irrational fear of the Black body causes white folks to implement policies or procedures that punish, exclude or kill Black people. The video of the murder of George Floyd offers insight as to how that fear grows and led to his death. White folks have to slow down and go inside to understand when and where fear comes up and how to avoid making policy based on fear.
8. Seek liberation
Bend the moral arc of the universe through cooperation
Cooperatives are more than alternatives to capitalism; they offer an opportunity to organize our communities for liberation. Cooperatives hold the potential to simultaneously move social justice agendas and build businesses that serve communities. I am committed to a cooperative future where we are all liberated.
Cooperatives offer an opportunity to organize our communities for liberation.