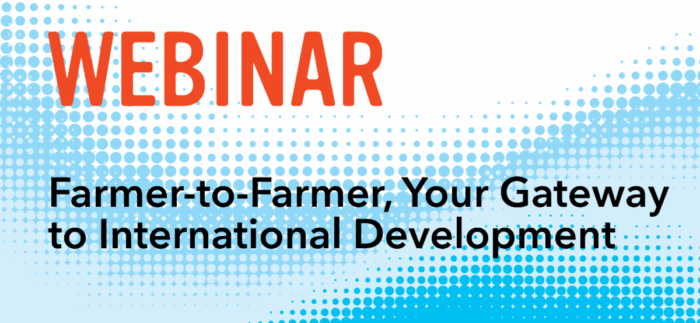 Members of NCBA CLUSA have the unique opportunity to participate in a marque international volunteer program funded by the United States of Agency for International Development (USAID). We encourage you to become a member and take advantage of this once in a lifetime opportunity to use your talents and skills to serve communities around the world.
Join us for this free and informative webinar as we delve into the world of international development and learn about the many opportunities that await in cooperative and organizational development, agribusiness, marketing, agricultural production, engineering, etc. If you are looking for ways to positively impact communities, this is an opportunity you don't want to miss! Leading this discussion will be NCBA CLUSA's Farmer-to-Farmer recruiter, Sequoia Ireland.
Due to the COVID-19 pandemic, the NCBA CLUSA Farmer-to-Farmer team has created virtual volunteering opportunities through a new hybrid volunteer plan. This format requires one U.S. volunteer, who will work 100% remotely and one in-country volunteer collaborating to complete assignments. It is a great opportunity for those who are committed to volunteering via the Farmer-to-Farmer program and want to exercise caution during the COVID-19 pandemic. If you're interested in volunteering, don't hesitate to apply to our assignments today!