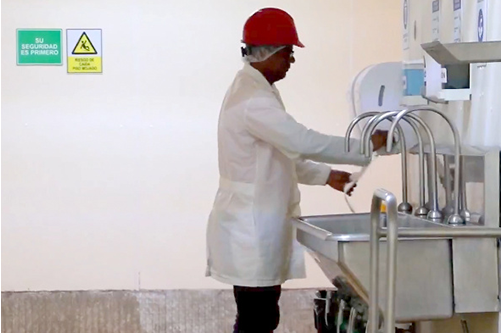 Just two years after establishing an artificial insemination (AI) route in two eastern provinces of Dominican Republic, more than 5,000 cows at 37 farms have received AI services, raising the conception rate from 40 percent to 85 percent.
In partnership with GENEX Cooperative, NCBA CLUSA's U.S. Department of Agriculture (USDA)-funded Safe Agriculture/Food Exports (SAFE) project has been working to improve herd genetics since late 2018.
Owned by beef and dairy producers, GENEX Cooperative specializes in advanced, yet locally tailored, reproductive solutions. Traditionally, cattle ranchers improve herd genetics through natural mating and crossbreeding. But with the emergence of artificial insemination, many farmers have found a more cost-effective and reliable way to keep their herds healthy and productive.
While less than 2 percent of cattle farms in the Dominican Republic use artificial insemination, it is an important tool for livestock improvement. It provides broader access to superior genes while eliminating the need to maintain a breeding bull for a herd (and the associated costs). Additionally, studies indicate that AI not only increases the rate of conception, but also considerably reduces diseases in cattle.
"We are not only seeing progress from the genetic or reproductive point of view, but it goes further, since the farmers are at the same time managing the nutrition of both the animals that have been inseminated and those being born as a result," said Alvaro Paolini, Cattle Reproduction Specialist for the Cattlemen's Association of Hato Mayor.
Cattle farmers who participate in the AI route comply with health, nutrition, animal welfare and other good livestock practices to ensure the success of the program. Already, heifers born at the beginning of the program are being inseminated. Lowering the insemination age from between 36 and 42 months to 22 months is making the process more efficient and profitable.
Critically, the AI route is sustainable, Alvaro said, with liquid nitrogen, semen, fuel, transportation and logistics either provided or handled by member farmers. A "route" in this context is simply a farmer-managed circuit along which an AI technician provides services to member farmers.
"We still have a long way to go, but we are on the right track," Alvaro added.
Learn more about NCBA CLUSA's partnership with GENEX here: https://ncbaclusa.coop/blog/bringing-co-op-expertise-to-cattle-farmers-in-the-dominican-republic/