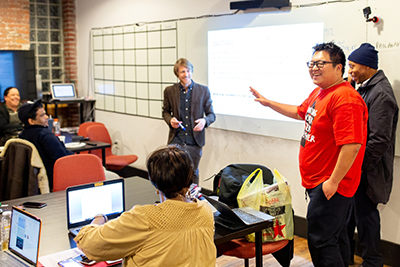 Over the weekend, I read a feature with ideas on how to fix America published by the New York Times. The feature is sprinkled with big ideas such as putting an internet-enabled device in the hands of every American or slashing regulation to prioritize growth. I immediately put fingers to the keyboard to share what we in the cooperative community already know: with the right policy infrastructure, cooperatives have had—and can again have—a transformational impact on American families and communities. You can read my letter to the editor below.
"How to Fix America" asked top experts to share one idea people could act on right now to make the country a better place. My response? More people need to own and control the businesses they use. As a business model that can bridge geographic, racial, health and wealth divides, cooperatives are the path to a more sustainable, inclusive economy.
These are the same ideas that we at NCBA CLUSA are sharing with policymakers within Congress and the incoming Biden-Harris Administration as these leaders establish their policy priorities for the next term. We need your help.
This is a crucial time to educate all policymakers—federal, state and local—on how cooperatives can lead to more inclusive economies. As a resident of the town, district or state where a policymaker represents, you are its very best advocate. To help you communicate specific ideas, last October we released a new report authored by the Urban Institute called "Policy Strategies to Build a More Inclusive Economy with Cooperatives." This report provides the policy map to achieve healthy, equitable and sustainable communities.
On December 15, I will sit down with the principle author of that report, the Urban Institute's Brett Theodos, for a virtual panel discussion to talk about moving these ideas into reality. Joining us will be Courtney Berner, Executive Director of the University of Wisconsin Center for Cooperatives; and Cornelius Blanding, Executive Director of the Federation of Southern Cooperatives/Land Assistance Fund.
In the meantime, put your fingers to the keyboard to share the cooperative difference with your local, state or federal officials—especially those who are newly elected. They need to understand what cooperatives have done and can do for their constituents.
You can also reach out to your elected officials by sharing co-op news, events and features directly from NCBA CLUSA's website. Our "Share this content with your representative" feature appears on the right-hand side of every article page on ncbaclusa.coop. Just enter your zip code, hit the "submit" button and select the representative(s) you would like to connect with.
—Doug O'Brien is president and CEO of NCBA CLUSA, where he works with the cooperative community to deepen its impact on the economy. His letter to the editor, submitted in response to "How to Fix America," is reproduced below. 
Thank you for creating the platform for transformational ideas on "How to Fix America," the recent DealBook feature. Our answer is for vastly more people to own and control the businesses they use.

When our nation has faced big challenges throughout history, cooperatives have helped empower people in their economies and communities. Cooperatives are businesses owned, controlled, and that benefit the people who use the business—and not outside investors. Co-ops can help bridge geographic, racial, health and wealth divides. A recent Urban Institute report, "Policy Strategies to Build a More Inclusive Economy with Cooperatives," provides the policy map.

Co-ops have been used to electrify rural America and power over 20 million homes, businesses, farms and schools. When Wall Street's high-risk activities set the Great Recession into motion, credit unions, which are cooperative financial institutions, stayed true to their mission of thrift to provide stability and safe financial opportunity for more than 120 million members. And farmer co-ops ensure that farmer-owners—and not outside investors—own and control such well-known businesses as Ocean Spray, Sunkist, Organic Valley and Cabot.

The cooperative business model can and should go to scale to solve today's biggest challenges: the caregiving crisis involving both childcare and elder care, the small business closure crisis brought on by COVID-19 and the retirement of the baby boomer generation, the extractive nature of the gig economy, and the climate crisis.