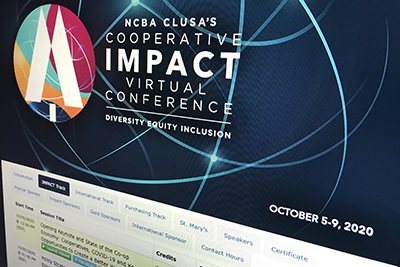 With a record 922 registrants, NCBA CLUSA's 2020 Cooperative IMPACT Conference provided an unparalleled platform to reenergize the cooperative movement and galvanize its champions around building a diverse, equitable and inclusive economy. That theme linked three tracks, more than 40 sessions and 125 speakers across five days of programming that inspired learning and action.
On Monday, IMPACT attendees got an exclusive first look at a new report from the Urban Institute on policy strategies designed to jumpstart cooperative development and expansion to address contemporary issues—in particular, to enhance the work of co-ops that address economic and racial disparities in the U.S. The Urban Institute's Brett Theodos urged attendees to "tell a new story," one that "contextualizes co-ops within the current political environment."
On Tuesday, participants heard an inspiring keynote from Thaleon Tremain, CEO of Pachamama Coffee Cooperative, the first direct-to-consumer coffee roaster in North America wholly owned and governed by thousands of smallholder farmers in African and Latin America, connecting coffee producers directly to end consumers. "We get to decide which version of the future we want to support," Tremain said in regard to the choices consumers make when buying products like coffee.
During a live keynote on Wednesday, co-op professor and historian Jessica Gordon-Nembhard dispelled the notion that "co-ops can't be racist," noting that the movement's fundamental grounding in open membership and democratic member control are not enough to offset the cumulative effects of structural and institutional racism—particularly in the U.S.
"It's not good enough to be diverse; it's not even good enough to be inclusive. We need to deliberately promote and practice racial equity." – Jessica Gordon-Nembhard
"It's not good enough to be diverse; it's not even good enough to be inclusive. We need to deliberately promote and practice racial equity," said Gordon-Nembhard, who teaches Community Justice and Social Economic Development in the Department of Africana Studies at John Jay College of Criminal Justice.
She unpacked the ways in which racism can manifest in co-ops—whether in overt or, more likely, invisible and unintentional ways—and the path forward. One critical element is incorporating the Black cooperative history of survival, resistance and prosperity into the broader co-op story, she said.
Gordon-Nembhard's keynote was followed by an interactive town hall and panel discussion led by National Cooperative Bank's John Holdsclaw IV on how co-ops can begin to take concrete steps toward a more diverse, equitable and inclusive economy.
On Thursday, Congresswoman Nydia Velázquez (D-NY) accepted NCBA CLUSA's 2020 Cooperative IMPACT Champion Award, noting that despite the challenges of COVID-19, the crisis has "showcased the power of the cooperative model" as co-ops demonstrate their resilience and ability to adapt and innovate to meet their communities' changing needs.
Also on Thursday, this year's International IMPACT Track kicked off with a keynote from Harvard Business Professor Rebecca Henderson and representation from close to 50 countries."[Cooperatives] show millions of other firms around the world that there is a different way to run firms—a better way," Henderson said.
IMPACT 2020 sessions are available on demand to conference registrants throughout the month of October. If you missed a session, just log back in and catch up! And share our registration page with your networks. Registration for the Cooperative IMPACT Conference will remain open throughout the end of the month at a reduced rate. New registrants get full access to all conference programming.