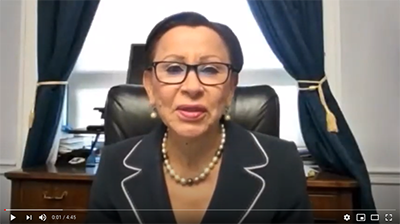 Congresswoman Nydia Velázquez (D-NY), currently serving her 14th term representing New York's 7th Congressional District, is the 2020 recipient of NCBA CLUSA's Cooperative IMPACT Champion Award, presented during last week's Cooperative IMPACT Conference.
In her role as chair of the House Small Business Committee for the 116th Congress, Rep. Velázquez has been a leading voice for cooperative enterprise.
"When the interests of owners and employees are aligned, businesses and communities benefit," Rep. Velázquez said during a video message. "I have seen this first-hand in New York's 7th District, where employee ownership has worked to shape local economies, making businesses more accessible, equitable and inclusive."
Like other small businesses, COVID-19 has forced co-ops to "make tough choices," Rep. Velázquez said, but the crisis has also "showcased the power of the cooperative model" as co-ops demonstrate their resilience and ability to adapt and innovate to meet their communities' changing needs. "Co-ops like Cooperative Home Care Associates in my district prove that a firm's financial well-being doesn't have to come at the expense of worker safety or public health."
"We need co-ops now more than ever," she added.
Earlier this year, Rep. Velázquez worked to ensure that co-ops nationwide could access the Paycheck Protection Program and other federal disaster assistance without regulatory hurdles. These efforts resulted in financial support to more than 2,000 cooperatives, directly preserving more than 96,000 jobs across America.
At a Congressional hearing in February, Rep. Velázquez highlighted the benefits of cooperatives and pledged to help remove the barriers that remain—including the full implementation of the Main Street Employee Ownership Act she authored in coordination with Sen. Kirsten Gillibrand (D-NY). Passed in 2018, that legislation intended to reduce barriers to accessing capital for co-ops and ease the U.S. Small Business Administration (SBA)'s "burdensome" personal guarantee requirement.
And minimizing lending barriers for cooperatives is critical. "Because small businesses are such an important part of our economy, what we do here impacts the lives of nearly every American," Rep. Velázquez said. "At a time when income and wealth inequality are at record levels, real wages for middle-class workers are nearly stagnant and retirement security is no longer guaranteed, cooperative businesses provide a path forward."
NCBA CLUSA continues to work with Rep. Velázquez  and other Congressional leaders to ensure that SBA carries out the Main Street Employee Ownership Act as Congress intended.
"I believe we can create an environment where cooperatives can thrive, making our economy more sustainable, equitable and inclusive," Rep. Velázquez said.
The Cooperative IMPACT Champion Award is given to individuals in public service who work tirelessly to create an environment in public policy and legislation that allows cooperative businesses to grow and thrive. These recipients are champions of values-based businesses that focus on building resilient and sustainable local communities.